Eagles fall to Cowboys in first playoff game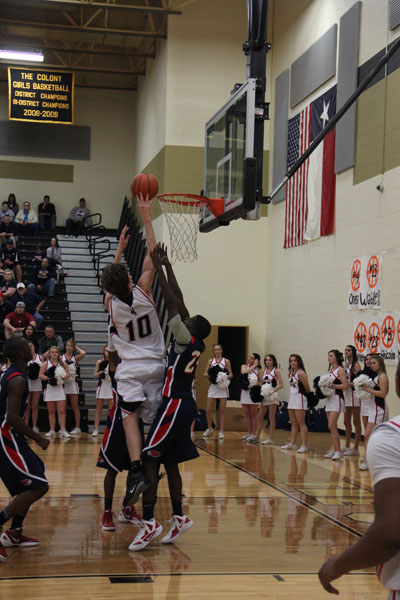 By Mary Whitfill
Features Editor
Video by Davis DeLoach
KCBY-TV Sports Director
The Coppell Cowboys basketball team pulled out a win in a close playoff game against the Allen Eagles on Tuesday night. In an overtime game with a tight final score of 43-41, the Cowboys proved they would be a force to reckon with in the post season.
The Cowboys played the first half with an almost impenetrable defense, allowing only five points to be scored in the first quarter. While Allen's offensive picked up throughout the game, Coppell consistently countered with a tough defense.
"Our offense was a little messed up, but our defense is what won us this game," New Tech senior Heath Heidtke said. "And that's because of the coaches, they had us running a lot of scouting and defensive drills this last week."
While the Coppell defense was among the best played in the season, the Cowboy's offence quickly fell apart in the second half. Not scoring until almost the end of the third quarter, the Cowboys managed to only make 3 points before the fourth.
"I guess the good news is that we could have played so much better and still won the game and I'm sure Allen was thinking the same thing," coach Brad Chasteen said. "We persevered on a night where we couldn't make a shot and our best player couldn't make a shot from anywhere and I've never seen it like that. For us to still win in the playoffs and advance is a credit to our kid's will and determination."
The game went into overtime with a score of 40-40, and both teams played impressive defense, with Coppell only allowing Allen to score one point. Heidtke scored the Cowboy's final two-point basket; taking the score to 42-41 before sophomore Simi Socks finalized the win with a free throw in the final minute.
"It was awesome to score one of [the final shots]," Heidtke said. "I missed a three [pointer] before overtime, so I figured I would never get a shot like that again and that I missed my chance to be the hero. It turns out that eight minutes later I had the same opportunity, but this time I made the shot."
The game's leading scorer was senior Warren Oishi with 14 points, followed closely by seniors Jett Raines with 13 and Austin Mankin with 10.
"The first game is always really hard and even though we choked a little we came up with a win and that's all that matters," Oishi said. "We know how we play the worst so we just need to bounce back and make our shots."
The playoff game was full of fouls by the Cowboys, with the team as a whole fouling more than 20 times by the end of overtime.
"Part of our game plan is to be physical and guys like Warren and Socks have fouls almost every night," Chasteen said. "We don't want to foul on purpose but we don't want to back down from anybody. It was a physical game, but Allen is also a really physical team."
Deciding the match up for next week, the Richland High School Rebels lost to the Mansfield Timberview Wolves, a result that the Cowboy's are quick to admit they were not expecting.
"We've been working on both teams, but I'd be lying if I didn't say we thought Richland would have won the game," Chasteen said. "They are ranked fifth or sixth in the state, 27-3. We'll find a different game plan and I'm sure Timberview will be much like tonight, it'll be a tough game."
As of now, the Cowboy's overall record is 25-8 and they will be playing the Wolves, ranked fourth in their district, with a record of 19-14 next week. Place and date to be announced.