Coppell student section goes too far?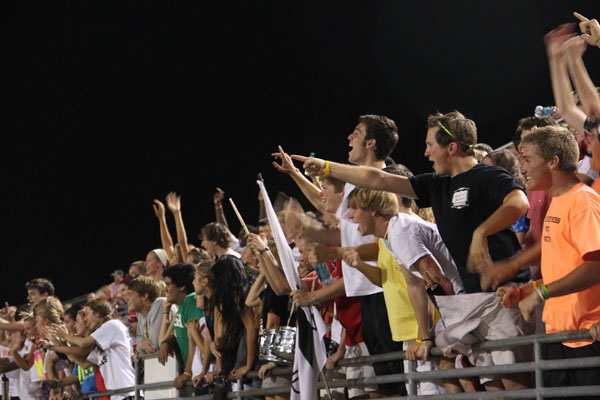 Hang on for a minute...we're trying to find some more stories you might like.
Tanner McCord
Staff Writer
"We are one of the hardest stadiums to come to play football in," head football coach Joe McBride said at the pep rally on Sept. 2. This can be accredited to our fans, more specifically, the student section.
Football is not the only Coppell sport with spirited fans. In fact, numerous sports have a large student fan base that has no hesitation to yell at and hassle the opposing team. Whether it is a volleyball match at home or an away baseball game, Coppell students can always be found, if not heard.
The fans at Coppell bring an intense attitude as well as many insults and cheers for any occasion that may occur during sporting events.
Several favorites among students seem to be "He's a sophomore!" for when an underclassman makes good plays, and the controversial "You let the whole team down!" for any missed basketball shot, strike out, missed volleyball spike or really any mistake that depends on an individual player on the opposing team.
"We have an awesome student section,," junior Silver Spur Brendan Richelet said. "They're very enthusiastic and even start their own cheers, but they are very disrespectful."
Cheers are not the only controversial part of our student section. At the football game at Jesuit on Sept. 9, Coppell resident and Jesuit junior Ryan Sapp came to the Coppell side, wearing a Jesuit shirt, to say hello to some friends. As soon as he arrived, he was met by a few Coppell students who began to shove him around and insult him to the point where Sapp just got up and left the game.
"After going to the high school for three years it is awesome to be on the other side of the cheering and see the devotion the fans have, but we've had a few choice moments where we've taken it too far," Plunger Boy Teddy Croft said.
Cheering and trying to get into the other team's head is all part of the sport's experience, but there are certain lines that should not be crossed. Last year during the playoffs, students may remember the Facebook page created regarding the Trinity vs. Coppell game.
Several arguments and threats broke out between students and the page began to get so many abusive posts that school administrators deleted the page. Students will actually look up players or cheerleaders on the opposing team to create personal insults against individuals.
The student section at Coppell has even resorted to physical abuse. There have been several occasions where students have thrown nearly full water bottles at band members of the other team while they prepare for the half time shows, and again, cases like Sapp's.
"CHS is very fortunate to have such a passionate and vocal student section, but sometimes the behavior of our fans reflects poorly on our school," junior Will Seitz said.
Coming to sporting events and supporting the team you have come for is very important, but the opposing fans are there for the same reason. They do not go to be pushed around, personally insulted and threatened; they go to watch and enjoy the game and we should go to do the same.
"I would say that some of our students can get a little over zealous," Mr. Bagley said, "We are working on overseeing certain groups of students and pulling them out individually, and if the problem is not resolved then they will be asked to leave the event."