Cowboys topple Jesuit in close game, 35-28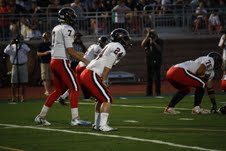 By John Loop
Staff Writer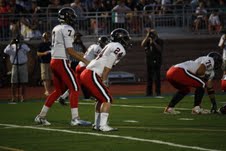 With just under three seconds to go in the game, senior safety David Busby leapt to snag the game-saving interception that allowed the Coppell Cowboys to rope the Rangers, 35-28.
The first half was very uneventful, as both teams struggled to a stalemate in offensive production.
After Cowboy quarterback Jake Larson committed three turnovers, two interceptions and one fumble on three potential scoring drives, Jesuit capitalized on opportunity to score 21 points and tie the score at the half.
Larson went 12-of-16 for 157 yards, a touchdown, and three interceptions that ultimately kept the game close.
The Jesuit defense also received a heavy dose of Coppell junior running back Luke Jenner, who rushed for 205 on 27 carries and scored touchdowns of 3, 9, and 44 yards.
The Cowboys defense, on the other hand, looked lost. Jesuit quarterback Jack Brezette completely abused the Cowboys' secondary for 437 yards and four touchdowns, including two to wide receiver Jake Oliver.
As the second half got underway, the Cowboys' offense began to find its rhythm, scoring twice in the fourth quarter to give them a confortable lead. But Jesuit rebounded, pulling within a touchdown after Brezette tossed a touchdown pass to Oliver to pull within seven points, and with just over three minutes left in the game.
Both special teams units weren't too special, looking mediocre in the intense battle. The Jesuit kickoff coverage squad gave up a 90-yard return to Jacob Logan on the opening kick. The bright spot for Coppell special teams was kicker Nick Jordan, who had at least three touchbacks that won the field position battle for Coppell.
Coppell was forced to punt on their last offensive possession of the game, giving the Rangers a minute-fifty in change to try and tie the game at 35. Jesuit was aided by two huge pass interference penalties on third-and-long situations that kept the drive alive.  In total, the Cowboys were penalized 11 times for 127 yards.
In the end, the game was decided on the final play. On fourth down, with Coppell's defense backed up inside its own seven-yard line and 2.6 seconds left in the game, Brezette scrambled away from pressure in the pocket and heaved a desperation pass to his receiver in the corner of the end zone. Busby, who had missed three early interception opportunities, was in the right place at the right time, snatched the ball out of the air, and came down with it cleanly to preserve the Coppell win.
After the game, Larson said he was satisfied with the win, even if the team didn't look good doing it.
"It was a win, it wasn't pretty but we'll take it," Larson said.