4th annual Ride of Silence takes over Coppell streets
Mary Whitfill
Features Editor
On Wednesday, over 100 bicyclists silently took the streets of Coppell to honor those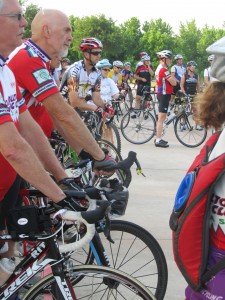 whose have been killed or injured by vehicles while riding legally on public roads. Setting off from Coppell High School, participants rode 11 miles without uttering a word and successfully completed the 4th annual Ride of Silence.
The Ride of Silence occurs every year on the third Wednesday of May, National Bike Month. This year, over 300 cities in all 50 states and 18 countries participated. The Ride of Silence began in 2003 when the mirror of a passing bus struck and killed local cyclist Larry Schwartz. When friends decided to get together for a one-time gathering to ride around the lake in memoriam, word spread quickly and over 1,000 cyclists participated.
Coppell residents David Stonecipher and Karen and Barry Zajac founded the Coppell Ride of Silence in 2008 to memorialize friends and family.
"We were in a meeting of a cyclist advocacy group and we got to talking and we wanted to do something to recognize those whose lives were lost," Stonecipher said. "We thought that the best way to do that was to bring The Ride of Silence, which happens everywhere in the world, to Coppell."
Specifically, in July 2007, Coppell resident and avid cyclist Greg Dean was hit and killed on his bike by a motorist who ran a red light on State Highway 121 at Freeport Parkway, prompting the establishment of the local movement.
"Greg was a cancer survivor who loved riding his bike," Greg's wife Patti Dean told the cyclists. "Each ride of his was a celebration of a minor victory. Treat every day and every ride as a personal victory and celebrate it."
A majority of the participants were cyclists who once rode with Greg as a member of the Carrollton Cycling Club or Dallas Athletes, but a significant amount of riders were those who came to show their support for Dean's daughter Betsy, a CHS sophomore, and Patti.
"It's very moving," Patti said. "It is nice to know that everyone remembers him and can do something like this for him."
Among the riders were local cyclists, city officials, public service workers and members of the CISD school board.
"It's a great thing to do here, it really raises motorist awareness overall," Coppell fireman Chris Addison said. "As both a rider and a motorist, I have experienced the frustrations each can cause from both sides. Getting a big group together like this really forces the drivers of cars to pay attention."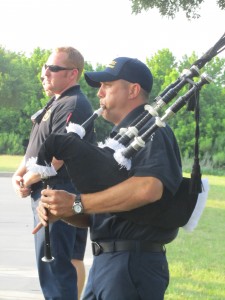 Addison played "Amazing Grace" on his bagpipes as the riders set out from the high school and participants were greeted again by the playing of Taps by Eagle Scout and CHS freshman Joseph Pye as they completed the event.
The Ride of Silence hopes to bring awareness that bicyclists, whether for transportation, recreation or exercise, have the same right to use the roadways as motorists and they can both safely share the roads.
"These are not just names," Stonecipher said. "These are friends. These are neighbors."