Biology students crack open secrets to hands on teaching
Ashley Attanucci
Web Manager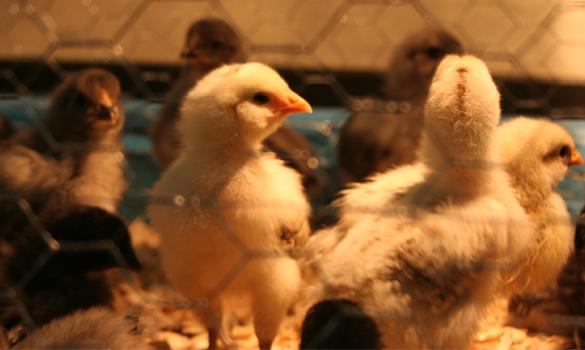 Chirp, chirp. These friendly hollers are heard when students enter Sunny Richardson's regular biology class. Pushed neatly against the wall of the classroom is a cage full of chicks, colored black, brown and crème, to be studied as a part of Richardson's genetics unit.
Students were to compare the color of the eggs of the chicks to the color of their feathers once hatched to determine the genotypes of the 18 chicks. Bringing these live animals into the class is a philosophy Richardson believes is a necessity to teach biology.
"My belief is that a biology class should have live, living organisms in it," Richardson said. "So when I was visiting my sister's farm, I thought about the eggs and the chicks and how cool it would be to hatch them [at school]."
The original experiment for Richardson's classes was to incubate and successfully hatch 30 fertilized eggs. Unfortunately, the delicate experiment went south (due to humidity problems) and none of chicks were born, but the classes were able to dissect the eggs and observe the half-formed chicks.
"It's like a treat for us," freshman Jennfer Love said. "Live animals are just fun. But I'm a visual learner, so to see actual examples, to hold and to watch [the chicks] really improves the understanding of biology."
Most of Richardson's students agree that the chicks bolster their understanding of the tricky genetics unit.
"[The chicks] encourage all of us to do the experiments and have fun with them," freshman Saige Holst said. "It's different and fun to have live animals to study."
The live chicks she has today were donated, already hatched, by her sister, as was the second batch of fertilized eggs sitting still in an incubator in Richardson's room, projected to hatch Saturday, January 23.
Richardson kept students excited and entertained by this assignment throughout the experimental process. By streaming live the eggs in the incubator and the chicks, students and their family members watched from home by tuning into the UStream channel http://www.ustream.tv/channel/mrs-rich-s-hatch-watch-2010.
The use of these live chicks will also extend into the next unit, animals. Hopefully, the newest batch of eggs will hatch this weekend as the current chicks are quickly outgrowing their quarters.