Muvva, Kulkarni pursuing excellence in elite science fair
In the midst of a casual hangout, Coppell High School juniors Ameya Kulkarni and Praneeth Muvva approach the idea of joining the science fair, unsure where their journey will lead them. Little did they know that it would ultimately take them to The Regeneron International Science and Engineering Fair (ISEF). 
On Feb. 18, Kulkarni and Muvva were chosen to compete at ISEF among eight other top participants after placing first in Computational Biology – Bioinformatics at the Dallas Regional Science and Engineering Fair (DRSEF). 
Muvva and Kulkarni first ignited interest in science during AP Biology with CHS science teacher Bianca Benitez at the beginning of this year. They embarked on a mission to create a unique project that would apply their learnings to real-life scenarios along with their collective interest in STEM.
"We knew we wanted to do biology because that's what we were both learning about in school," Muvva said. "So we said 'let's try to incorporate that into our project too.'"
In their quest for innovative ideas, they dove deep into their research, combing through numerous published science databases, navigating through dense scientific jargon and complex formulas to find a topic that had yet to be explored. Finally, they came across a shimmering gem.
"We noticed there's been a lot of machine learning in different fields like medicines, self-driving cars or chatbots like ChatGPT," Muvva said. "One of the things we looked at was 'what's a new way to use it?' and we stumbled upon this field called venomics." 
According to Science Direct, venomics is the study of the complex mixture of proteins and peptides that seeks to analyze the biochemical and genetic composition of venom, as well as its various functions and potential applications in medicine and biotechnology in venomous creatures such as snakes, scorpions and spiders. 
"One of the issues researchers have is whenever they find a new animal venom, they can sequence the amino acids and they have this structural data, but they don't know its function or what it does," Muvva said. "We were thinking, 'OK, let's use machine learning to be able to predict these functions.'" 
From September to February, according to Muva and Kulkarni, the pair invested 120 hours, respectively, into completing their project in time for the DRSEF. 
"During winter break, [Kulkarni] would be cleaning some of the data on Excel while on a plane to Egypt," Muvva said. "We met for an hour each week and worked on our own outside, dividing up the tasks, doing our solo parts of it."
Driven by their passion to create a tool that would benefit both the public and researchers, they worked diligently to ensure their project was accessible, convenient and accurate.
"The whole idea of the project is to create a humanistic 'if I give you this sequence of letters (structural sequence data), what do you think the function will be?'" Kulkarni said. "It's a good predictive tool rather than spending a lot of time and money conducting your own research to see which protein matters." 
Despite being high school students with limited access to scientific resources and labs, Kulkarni and Muvva were not deterred in their pursuit of developing a functional learning algorithm to predict the function of venoms. They realized that the power of modern technology and information was within reach. By utilizing Google and neural networks such as Uniprot, they were able to create a functional learning algorithm that could predict the function of a given venom.
Due to the originality of their project, the pair faced difficulties in researching and forming the model.
"It's pretty much starting from scratch and there's really not been any projects like this before so a lot of the stuff we had to figure out on our own," Muvva said. "Sometimes there wasn't that much data for a certain type of function so working around that was difficult at times."
As Muvva and Kulkarni presented their project, they left their audience captivated. Despite facing challenges along the way, the pair leveraged their combined expertise to overcome obstacles and complete their project to a high standard.
"They're amazing; they're both true leaders in their own class," Benitez said. "When they were presenting, I was in awe of what these students are doing at an age where most people aren't doing any science related things like that." 
The pair's potential is evident in their project. Its outcome is a testament to their ability to apply their knowledge and develop innovative solutions to complex problems. 
"I think ISEF is a really significant achievement, only 1,800 high schoolers across the world get in, which is a really small amount if you consider [that there are] more than 15 million of them." said CHS junior Trishay Naman, who placed second in Biomedical Engineering at DRSEF and a qualifier for the Texas Science and Engineering Fair (TXSEF). "The fact that they're demonstrating interest in Bioinformatics this early means they have a bright future ahead." 
The project's success has surpassed the pair's initial expectations, immersing them in a rich pool of knowledge and fueling their interest in the field. This experience has opened up new avenues of exploration and discovery, leading them to explore areas beyond their original focus.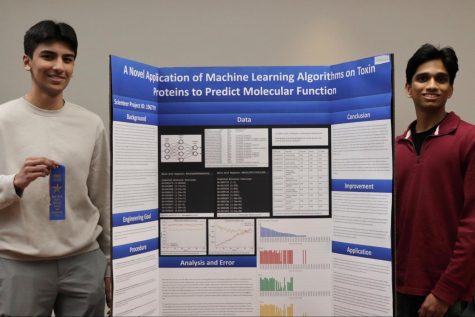 "Earlier, I knew nothing about Computational biology, I just knew 'oh people use computers to detect diseases' but actually going into the field, there's a lot of different complexities and lots of different fields; it increased my interest in Biology," Kulkarni said. "It isn't just studying the parts of the cell or mitochondria. There's hundreds of thousands of different projects you can do. It's super deep and really interesting. In some way, every project that someone does has a contribution to the world. No matter how small your project is, knowing that you still made a contribution towards the future and in our case the medical field and STEM." 
The pair believes in the potential impact of their project, given its ability to provide users with greater convenience, particularly in light of the rapid technological advancements taking place globally.
"STEM is where the world is heading. Everything is becoming more technologically advanced, people are looking for ways to use technology to make their lives easier, prevent diseases, keep people from aging," Kulkarni said. "While our project is about venoms and snakes, it's an important contribution to the medical field and knowing what we've done has helped that field in some way, hopefully." 
The pair has shown that age is not a limiting factor in pursuing one's passions. They encourage others to take the leap and pursue their interests, regardless of their age or perceived limitations.
"Don't be afraid to ask for help," Kulkarni said. "Talk to teachers, reach out to researchers, or professors. The only thing they can do is help you and make your project better." 
Follow @CHSCampusNews on Twitter.