Coppell Youth and Government victorious at Austin, bringing home five individual awards
In a glamorous ballroom in Austin, five young delegates novice political dreams came true on Sunday.
Coppell High School recently competed in the Youth and Government (YG) state conference from March 2-5 and left with five medalists; sophomore Thomas Gao and junior Anusha Narway placing in the state affairs forum (SAF) and sophomore Navya Singh, junior Akhil Sankar and junior Atiya Merchant in legislation. 
This is YG's second year at Coppell High School. As interest in this club has grown, this year's attendees at the state competition far surpassed last years, with a record 23 delegates.
"Everyone was excited," YG sponsor Kimberly Lee said. "It was almost twice the number of kids that went before. Coppell has a reputation in this program for being top notch [YG went to state last year] and they showed up again this year."
YG delegates have been preparing for the trip to state since October.
"The legislative kids have been reviewing and revising their bills, the state affairs kids have been the same way with their proposals for the judicial team," Lee said. "We've been holding court and working on character development for the roles that we see within the courtroom."
YG brought awards back for SAF and Legislation.
"Every delegate needs to make a proposal," Gao said. "I wrote a proposal, I made some speeches and the most difficult thing was probably creating a visual. I'm not a very artistic person but it was a fun challenge."
Legislation, on the other hand, offers delegates the opportunity to to introduce their own bills.
The state competition provided a variety of opportunities and experiences for the delegates and for some, this was their first time at a state conference.
"It was only two of us [competing in the state affairs forum] so I was really hoping we'd get to go," Gao said. "We both made it and it was really exciting. I'd never been to a state competition this far so it was a new experience and I'm really glad I did go."
When the time for awards arrived, Coppell came up strong with multiple medalists attaining high honors.
"It's really an honor because Distinguished Delegate is one of the awards that only the top 10% of debaters in SAF forum in the state of Texas get," Narway said. "SAF and [YG] is a game of endurance. It's not about how hard the debate is, it's about how long you're debating and you're debating for about six to eight hours. To know that a judge was sitting there and noticing how much I talked and what points I made is amazing to me."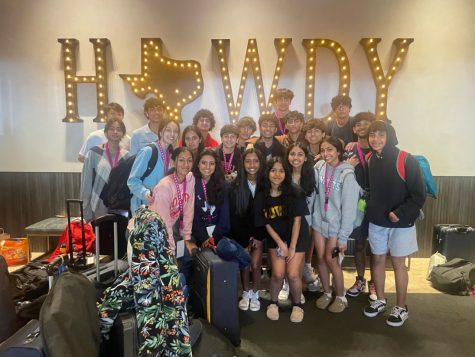 Even in all the chaos and excitement, some awards managed to come as a shock for others.
"I was really surprised," Gao said. "My name was one of the first names called because I was one of the first committees. When I got the award I was blindsided but it was really cool, all the people from my delegation were cheering for me."
Some delegates walked away with awards they weren't trying to attain and didn't know existed.
"In all honesty, I didn't even know that there was an award for [lower level state affairs]," Sankar said. "I was so focused on winning and getting the higher award so I didn't even know that this existed, I was completely surprised. I was really happy."
The prestige and honor of the award ceremony came as joyous proof of all the hard work the team has put in over the past few months. 
"Excitement through and through," Lee said. "I couldn't be more proud of these individuals and how they support one another and even those who didn't get a medal were right there cheering on their fellow delegates."
During the trip, the team came together to uplift and support one another.
"There were like a thousand people and staff," Sankar said. "We went up to the front and took a picture against a decorated wall. Just being able to walk down that aisle with 1,000 people screaming and especially your own friends cheering for you is really nice."
Delegates will look to apply for the Conference of National Affairs, which is highly selective as only a total of 25 delegates from Texas get the chance to attend.
Even with all the excitement and energy that the trip brought about, Lee hopes the delegates take away more than just medals.
"For the delegates, I really hope this experience is opening up their eyes to the importance of government and involvement," Lee said. "I hope it shows them the importance of doing your part in our democracy and also how it's vital that we have a multitude of voices and perspectives that are heard. My goal moving forward is that they will take this and that they will grow on it and become leaders within our society."
Follow Nyah Rama (@nyah_rama) and @CHSCampusNews on Twitter