New art teacher embracing irresistible call to field of art education at Coppell
Coppell High School digital art teacher Brennan Frugé has been an artist his entire life, yet never truly considered teaching until he turned 30 years old. 
Having a multitude of professions and gaining years of experience in the visualization field, Frugé began his career in 2000 as a 3D graphic artist for BOKA Powell in the DFW area. After transferring to UT Southwestern Medical Center from 2009 to 2012, Frugé became a senior administrative assistant, functioning as a department liaison to IT and marketing departments.
In 2011, Frugé discovered a new passion: art education. While working full-time and starting a family, he began attending the University of North Texas to acquire his degree in Art Education. Taking his passions to Perkins & Will as a visualization artist, Frugé produced engaging 3D visualization for a multitude of architectural projects until the end of 2017.
"I left the computer graphics industry to become an art teacher because I believe wholeheartedly in the transformative power of art education and that instruction in the visual arts is essential to prepare our children to thrive in modern society," Frugé said. "When I got laid off in 2009, prior to working at UT Southwestern, I decided to do some soul searching and prayed, which eventually led me to realize that I should spend my life following my passion, teaching something art-related." 
Frugé finished his training as an art teacher in 2018, leading him to teaching in Lovejoy ISD. To obtain more practical experience with students and to stay close to his family in Coppell, Frugé began engraving a path at Coppell ISD by completing two rotations as a clinical student teacher. At Coppell Middle School East, he worked under Jillian Richards for seven weeks and with Lakeside Elementary School's Cacey Narez for another seven weeks.
"[Frugé] has been a great addition to our art education team as he has a lot of knowledge from previously teaching middle school and now is doing great with transitioning into high school," CHS Art I and II teacher Sarah Williams said. "We all have a solid relationship with him and definitely have expanded our students' knowledge when it comes to digital art."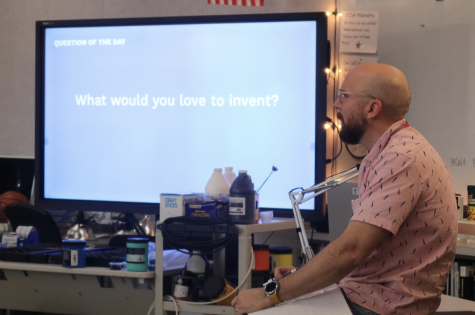 Frugé loves to learn, even those not correlated to art, and enjoys keeping his brain's creative gears occupied. 
With his wife and two young kids living in Coppell since 2014, Frugé enjoys working on home-remodeling projects, such as building a rock-climbing wall for his kids and designing a fixer-upper house. When he's not teaching, Frugé loves to camp with his family, make soap, home brew, and especially believes ceramics is his favorite 3D art endeavor.
"[Frugé] is great at pushing students outside of their comfort zone which is very significant for the students to maximize their full potential through their artwork," CHS Art I and II teacher Michelle Hauske said. "The best part about his teaching style is that he doesn't just lecture the students, but makes sure he does his best to engage with them, while also challenging them."
Since it had never occurred to him to become a teacher in high school, Frugé mainly focused on computer graphics, pushing him to have a completely different career for 14 years prior coming to CHS, including work with digital photography, video production, graphic design and more.
"I strive to have the way I teach reflect my experiences from high school, in a way where my students feel comfortable enough with me for them to display their best work through their art on a daily basis," Frugé said. "Teaching at CHS immensely helps me feel called to instruct art to other young students in ways they respond to best."
Follow Rhea Choudhary (@rhea_choud) and @CHSCampusNews on Twitter