Bengals spoil Cowboys home opener in pitcher's duel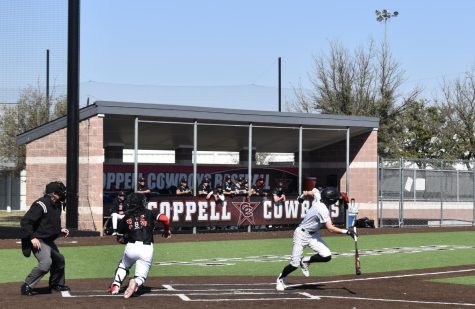 On Saturday morning at the Coppell ISD Baseball/Softball Complex, the Coppell baseball team lost to Denton Braswell, 2-1.
"We could have improved on timely hitting," Coppell coach Armando Garcia said. "We are getting runners on base, we just need to be able to bring them back [to the home plate]."
Three innings in, Coppell senior infielder TJ Pompey seeks the opportunity to bring Coppell its first run in the game. He scores to put the Cowboys in the lead, 1-0.
Garza started Coppell junior pitcher Jake Garcia on the mound before inserting junior pitcher Braden Beene for the second half of the game.
"Jake Garcia started on the mound and did really well," Coppell senior center fielder Zach Darkoch said. "Then Beene came in and shut them down. They definitely played a big part [in today's game]."
During the top of the fifth inning the Bengals pushed two runs across to take a 2-1 lead.
"We hit well overall but could have improved," Garcia said. "We could have also made fewer errors."
Coppell hosts Celina at the Coppell ISD Baseball/Softball Complex on Thursday.
Follow Sannidhi (@ArimandaSanni) and @SidekickSports on Twitter.