New teachers have strong connections to CHS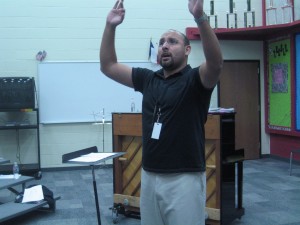 Story by Emma Hair, Copy Editor
Video by Jen Olsen and Susie Shahsavari, KCBY
Coppell High School has some new faces this year, and it's not just the freshmen. Family ties, CHS's impeccable reputation, and a love for the Coppell community have drawn three new staff members to the CHS family.
These teachers include Lindsey Chasteen (basketball, track and social studies), Brian Rohloff (social studies) and Albert Torres (assistant choir director). All three are happy to be teaching at CHS this year.
Chasteen applied to work at CHS because of the strong family ties she has with the school, with her parents both coaching at schools in the district and having attended CHS herself.  
"I grew up around the district. It was the first place I wanted to go," Chasteen said.
Chasteen's mother, Kathy Chasteen, teaches Physical Education and coaches at Coppell Middle School North, and her father, Brad Chasteen, is the athletic head at CHS as well as the varsity basketball coach. He is extremely pleased to have the opportunity to work alongside his daughter.
"It's very exciting for me personally—I think Lindsey has the potential to be a great teacher and coach and I get to watch 'from a distance.' Now, I want her to get a few paychecks and get her own place to live!" said Mr. Chasteen.
After graduating from the University of Oklahoma in 2009, Chasteen worked at a church in Oklahoma with the high school ministry. She really enjoyed working with the high school age group, and loved the time she had spent in school at CHS, so Chasteen decided to apply for a position on staff. Aside from teaching a core class, Chasteen is a basketball coach and also coaches high jump and long jump for the track team. Her main goal for the year is to have her athletes learn what it's like to have a good work ethic as well as to improve their overall skills in their event or sport.
Like Chasteen, Rohloff also attended CHS, class of 1998; he even did his student teaching here. But before Rohloff went back to school to get his teaching degree he was on tour with his band.
"I was a musician.  I was the lead singer of [my band called] Miser just touring trying to make a living as a rock star. Miser was an alternative rock band. Our sound was similar to that of bands such as Incubus or Finger Eleven- your basic radio-friendly rock. We performed all around Texas, travelled to Los Angeles, Denver, Albuquerque, St. Louis and throughout Louisiana.  We also played a show in Iowa once," said Rohloff.
 His music career did not turn out quite like Rohloff had planned though, the music was not as lucrative as he hoped it would be and he did not seem capable of reaching the heights he had set for himself.
Rohloff chose CHS because he wanted to see all the kids he had during his student teaching graduate, and it was the top school on his list because he loves the community.
Torres came here from a previous choir director position at Barbara Bush Middle School in Valley Ranch. The head CHS choir director, Jeffrey Schulz, called Torres during the summer and asked him if he would be interested in a teaching position at the school.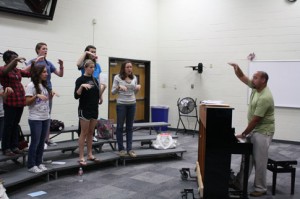 "I thought that Mr. Torres would be a good hire because he brings a wealth of experience and knowledge to the program that isn't always available in an assistant director. He has a true love for teaching and true concern for students' success," said Schulz.
Torres agreed to an interview and decided to take the job.
 "The interview was intense which gave me the notion that [CHS] is incredibly selective about its decision process," Torres said. "Plus, the CHS reputation is well-known throughout Texas and [CHS Choir] is a program I [wanted] to be a part of."
Torres loves the level of dedication in the Coppell choir program from both the students and the parents, and is always amazed with the talent and devotion that each student brings.
"This year I plan to raise the level of artistic quality with each [choir] because by doing this I have committed myself to being a passionate conductor and teacher."