Breaking down college tuition
Variety of avenues students can explore to pay for college
Manasa Mohan, Executive Editorial Page Editor
January 20, 2023
"Congratulations! You've been accepted to our school. We're excited for you to begin your journey with us." 
Coppell High School senior Uma Uppuloori's heart dropped as she read the email from Texas A&M. Now she was one step closer from becoming an Aggie.
Then she pulled up the tuition and costs tab on the A&M website. Her excitement turned to worry.
Uppuloori knew college would be expensive, but not this much. Now, she is facing the cold facts about a college education all aspiring college students face. "How am I going to pay for this?"
Texas A&M has an average cost of attendance of $32,026 for residents, but $61,310 for non-residents. 
With tuition and fees at private national universities jumping by 134%, out-of-state tuition and fees at public universities rising 141% and in-state tuition and fees at public universities growing by 175% over the past 10  years according to U.S. News & World Report, the hurry to find money to pay for college has become all the more intense to avoid the repayment cycle of student loans. 
But, Uppuloori and other college applicants do have options. 
Federal Aid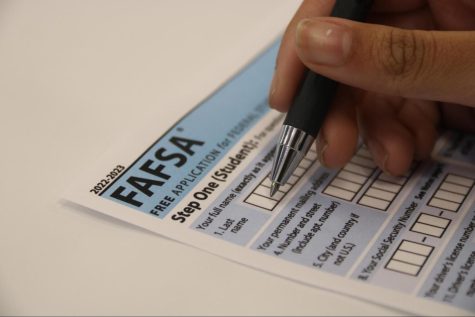 The first avenue that seniors should take to discover ways to lessen the burden of paying for college is the Free Application for Federal Student Aid (FAFSA). FAFSA can be a quite tedious process, but is one that is worth the end result. In order to submit the form on time, there are eight basic steps outlined by the U.S. Department of Education: create a FSA ID, start the FAFSA form at studentaid.gov, create a save key, complete the student demographic information, answer the dependency status questions, complete the parent demographic information, provide financial information and sign and submit the completed form. 
However, the FAFSA has specific eligibility requirements. Students must demonstrate financial need for need-based federal student aid programs, be a U.S. citizen or an eligible noncitizen, have a valid Social Security number, be enrolled or accepted for enrollment as a regular student in a degree or certificate program, be enrolled at least half-time to be eligible for Direct Loan program funds, maintain satisfactory academic progress in college or career school and show they are qualified to obtain a college and/or career school education. For the students who are not eligible to apply to the FAFSA, the Texas Application for State Financial Aid (TASFA) is yet another option for students to consider. 
"
"I wanted to make sure we got the kids that we need to honor for their sacrifice, for their time that they put into making this place a great place."
— CHS Principal Laura Springer
Under the House Bill 3 Financial Aid Application Requirement, as of fall 2021, it is now a high school graduation requirement for students to either fill out the FAFSA or TASFA. If a student chooses not to complete either one of the applications, they may opt out of the graduation requirement if a parent or guardian submits a signed form, the student is 18 years or older and submits a signed form or a school counselor authorizes the student to decline to submit the applications. 
"With our student population, the majority of students can qualify, but not all students can apply for the FAFSA," Coppell High School counselor Lindsey Oh said. "All of that is based off of parent's income, that's just an assessment to see how much they make, what schools are you looking at to apply to and how much financially do you actually need to pay for. It's such an important picture for a student to be able to see what they are ultimately working with [and] what is their estimated cost of tuition based off of the parent income. Some students realistically can look into FAFSA information and know if [they're] not going to qualify at all. But then there's some schools that automatically want a student to fill out the FAFSA and some don't require it." 
The key with federal aid is simply to complete and submit it. Sallie Mae reports for the 2020-21 application cycle, only 68% of families submitted the FAFSA form meaning that in one academic year, more than  $2 billion in federal student grants go unclaimed according to the Education Data Initiative. Even with the low number of applications, the Education Data Initiative found that 83.8% of college students benefit from some form of financial aid with 36.7% of undergraduates each receiving an average of $8,285 in federal loans and 42% of undergraduates each receiving an average of $5,179 in federal grants. 
Scholarships
For some students, it is inevitable to have loans in one way or another. Even if student loans are a viable option, students can find ways to alleviate the burden of loans via FAFSA, attending community college to obtain either an associate's degree or simply finish basic classes before transferring to another university or by applying for scholarships. For CHS students, there are a great deal of scholarships available from the Coppell community. For the 2021-22 school year, scholarships were offered from the Coppell Community Development Foundation, the Coppell Community Garden, the Coppell Rotary Club and others. 
"Whenever I got [to Texas A&M], there were so many fees for my classes and all that, and that ended up adding to $500," CHS 2022 graduate and Coppell Rotary Club scholarship recipient Uma Uppuloori said. "[The scholarship] really helped me in terms of fees and those smaller costs that you don't really expect." 
For the 2021-22 school year, Vari CEO and co-founder Jason McCann and his wife Cari McCann made a donation to the Coppell Community Development Foundation to create the Laura Springer Scholarship fund. CHS Principal Laura Springer identified students that exemplified gratitude, respect, integrity and trust (GRIT), leadership, teamwork and the love of learning; those students were awarded scholarships of $1,000 to support their future education endeavors. 
"I really want to honor kids who really [make] their academics very important in their life, but also are members of different organizations and clubs in this building and give their time to those things to make this a well-rounded, great place to go," Springer said. "We picked those kids because they displayed those characteristics and I definitely wanted kids that really did express gratitude, show respect, had integrity and all that trust we have in them. I wanted to make sure we got the kids that we need to honor for their sacrifice, for their time that they put into making this place a great place, making us one of the best academic high schools in the area, but also making this a great place as far as our Student Council goes, as far as our band goes, as far as all of our fine arts and our athletics."
When students look to apply for scholarships, it is common to aim for the national scholarships that are larger and more publicized. However, despite the larger amount of money, typically these scholarships are sought out by thousands of applicants which can make locally based scholarships a more feasible alternative. 
"There's less competition [with local scholarships], so it's easier for you to get it," Uppuloori said. "If you aim for the smaller ones, they add up. If you aim for the popular ones, everyone tries to apply to that, but it's also a big amount. If there's a lot of competition and it's a big amount, the chances of you getting it is a little low. Even though you're targeting smaller ones, since you have a better chance of getting it, they can rack up and it's actually viable." 
Student Loans 
There have been increasingly prevalent discussions regarding the risks that could potentially outweigh the benefits when it comes to student loans as students tend to leave college saddled with debt that gets harder to pay as time moves on.  
In fact, College Board reports that in 2020-21, 51% of bachelor's degree recipients from a public four year institution that graduated with federal loans owed an average federal debt level of $21,400 per borrower. Fifty-three percent of bachelor's degree holders from a private four-year institution that graduated with federal loans had an average debt level of $22,600.
"It's about being smart with the loan," Oh said. "Looking at what type of loans you qualify [for], what [do] those interest rates look like,  how much money are they offering in the loan and how much do you really need. That's the biggest thing I always emphasize to students is that most likely the loan they're going to offer, the amount is going to be more than what the student really financially needs to live on. But that should be after you exhausted filling out any free applications, any grants, any scholarships, that's at the end."
According to College Board, as of March 2022, 33% of borrowers owed less than $10,000 and 21% of borrowers owed between $10,000 and $20,000 in federal loan debt. 
As reported by Experian, student loans are open to students with limited or no credit histories which make them more accessible, can help cover major expenses so students do not have to worry about paying college expenses in full and offer lower interest rates than other options. For the 2022-23 school year, federal student loans come with a 4.99% interest rate for undergraduate students and either 6.54% or 7.54% for graduate students. However, for  a student without an established credit history and income, it would be difficult to obtain a comparable interest rate. 
Despite the benefits, student loan debt can be crippling as the average monthly payment ranges from $200 to $299; however, with a higher loan, the monthly payment could become even higher. Payments get even larger when loans add up with accumulated interest, so students have to be careful when considering the loan amount they take at first. Even if student loans cover some expenses, it still may not be enough to cover all associated expenses with college which may require students to look for other sources of income. 
Regardless of the avenue that students take, whether that be student loans or financial aid, as long as students receive the help they need to pay for the ever-increasing costs of college that is all that is truly important.  
Even if a student doesn't believe that they could qualify for certain avenues that help pay for college, trying out for various (including local) scholarships, applying for FAFSA and TAFSA, taking out a small loan, etc. can make all the difference in the long run. 
Follow Manasa (@Manasa_Mohan_7) and @CHSCampusNews on Twitter