Cowboys undeterred in district win against Plano East
PLANO – The fourth quarter had just begun, and the action was intensifying. Suddenly, the crowd falls silent. People from the sidelines rush to the field. Members of the Coppell football team slowly take a knee. A player has been injured.
After about 15 minutes of palpable nervousness, it was a double thumbs-up from the injured Cowboy that rejuvenated the team's spirit and grit. The team gathered, took a moment and went back into the game. The Cowboys used this energy to hold down Plano East the remaining nine minutes to secure a 49-14 victory at Tom Kimbrough Stadium.
"Our kids are resilient. We all had a moment of silence for [the injured player]," Coppell coach Antonio Wiley said. "It's a big deal when one of your teammates is down. But it's even bigger when you watch the kids just line up and say, you know what, we're going to finish this game."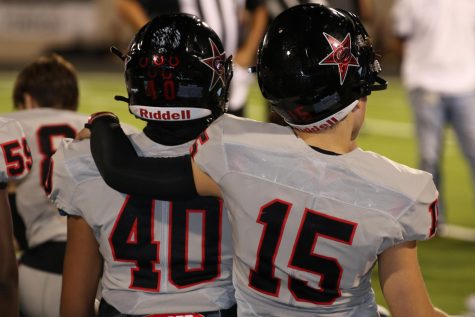 Coppell (6-1, 3-1 in District 6-6A) turned a fumble recovery into points in the first quarter when senior quarterback Jack Fishpaw connected with junior wide receiver Baron Tipton for an early 7-0 lead.
Coppell's offense maintained its strength with senior wide receivers Carter Kincaid's and Zack Darkoch's touchdown receptions.
"We were able to get ahead really early so some of the guys that normally don't get to play got some playing time," Darkoch said.
The first quarter ended with the Cowboys leading 21-0.
The second quarter showed the strength of Coppell's defense, preventing the Panthers from scoring a touchdown at the one yard line.
"The defensive play early in the game kind of shut [the Panthers] out and didn't let them get much going offensively," Wiley said.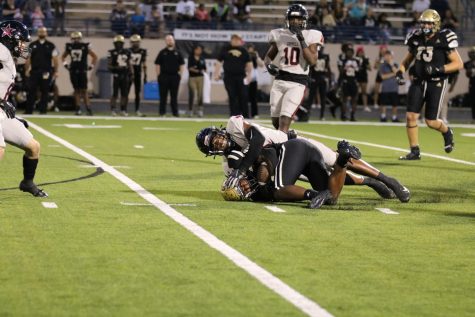 Coppell's offense made headway through a trick play that allowed Darkoch to catch a 30-yard pass. The first half ended with a touchdown from Darkoch, bringing the score to 28-0.
The Cowboys maintained their lead in the second half, beginning with a touchdown by Tipton. Senior cornerback Braxton Myers scored on a pick six, intercepting Panther junior quarterback Drew Devillier's pass. Finally, Darkoch scored his third touchdown of the game, bringing the score to 49-0.
The third quarter ended, however, with the Panthers scoring a touchdown—their first of the game.
"They had a momentary lapse, our defense," Wiley said. "We went out there, and we subbed. No matter who's in the game, we play fast, we play physical, we play aggressive. We didn't do that when we subbed."
For next week's district game against Hebron, Wiley hopes to learn from the "momentary lapse" in the Cowboys' defense.
"We're going to have to find a way to make sure that when we sub, the level of intensity and the level of play does not drop off," Wiley said. "Every time you can stack a district win, it's a big deal."
Regardless, Wiley believes that the team is doing better than ever.
"Our kids are slowly getting better," Wiley said. "You can see it in their demeanor, you can see it in their daily approach to get prepared to go play. They're a different team than they've been in a long time, and I think that's a credit to the young men on this team deciding they wanted something different this year."
Follow Srihari (@_fgmx) and @SidekickSports on Twitter.