"Let's go Coppell!"
Archetype placing fourth in Bands of America Dallas/Fort Worth Regional Championship
BEDFORD – The stadium lights tower overhead, reflecting glitter and shiny brass instruments. Bright, flowy textured fabrics contrast heavily with the dark green turf of Pennington Field. The audience sits in anticipation. 
Suddenly, a melodic harmony accompanied with a low thrum of tenor, snares and bass drums pushes through the thick silence and the whoops and hollers of the audience travel through the cool air.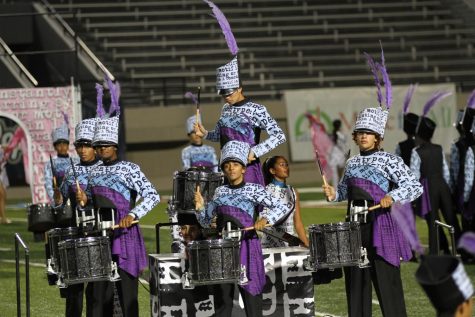 On Saturday, Coppell Band placed fourth with "Archetype," its 2022 University Interscholastic League contest marching show at the Bands of America Dallas/Fort Worth Championships with a score of 84.325, the highest in Coppell's history. The score saw a 4.025 point improvement from last week's HEB marching contest. 
Prior to finals competition, Coppell performed in a preliminary round that saw 24 bands from across the Dallas/Fort Worth area. From these, 12 bands advanced. 
"I thought they gave a much better performance today than last week," CHS band director Kim Shuttlesworth said. "Progress was definitely made. They were focused and tuned into the achievement of what they wanted as individuals, but also as a group. I was really proud of them. Seeing the kids' faces at the end of their performance, you can see that they're really proud of what they did. I think the results paid off in that way."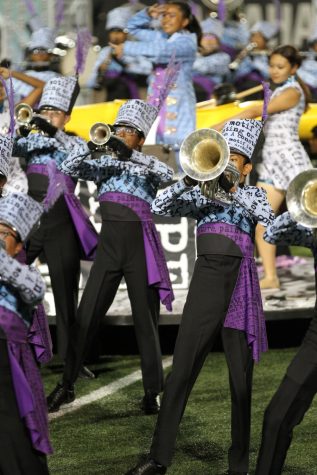 One week prior to Bands of America, CHS Band competed at the HEB marching contest, placing third with a score of 80.3. 
"This past week was a rough week of rehearsal," senior drum major Trey Bass said. "There were some timing issues that we had been dealing with, and just how we were doing things wasn't like us. That was reflected last Saturday at HEB. But this morning, we walked in and it was great. It allowed us to give a really good performance."
The show featured four archetypes: the artist, the explorer, the communicator and the lover. Various symbols were used to convey archetypes such as "Beethoven's Seventh," and Coppell color guard sophomore Madison Tindoc being lifted into a yellow plastic canoe hoisted on shoulders and carried across the field, all while mimicking rowing. 
During the first pause of music in Coppell's performance, a resounding "Let's go Coppell!" could be heard from Shuttlesworth. 
"The very first statement that we give is supposed to be the identity of who we are," Shuttlesworth said. "I never want them to forget who we are. I like to yell it right there, just so they remember to show the audience who we are." 
Follow @angelinaliiu and @CHSCampusNews on Twitter