Cowboys offense cruises to first district victory against Marcus
The clock ticks down, but the air is light. With 1:12 left in the fourth quarter, Coppell junior wide receiver Ayrion Sneed recovers the downfield punt, and Coppell is on offense with a hefty lead. The game's determined. 
Players on the sideline breakout in victory dances, the student section cheers and the coaches let on a loose smile because the Coppell football team defeated Marcus, 38-14, for the first time in four years on Friday at Buddy Echols Field.
Within the first three minutes of the first quarter, senior quarterback Jack Fishpaw hit senior wide receiver Luca Grasoli for a touchdown, and that was only the start to the robust lead the Cowboys maintained. 
Minutes later, Fishpaw connected with senior wide receiver Zack Darkoch for another touchdown. 
"It feels good that [in those moments] my coaches trusted me, and I was able to make plays," Darkoch said. "We were a lot more focused [this week] and really wanted it more because we came out tough and had more motivation within the team."
With the Cowboys coming off a 38-3 loss to Lewisville, coaches and players still have confidence in the team's offense, which was put on display during Friday's game.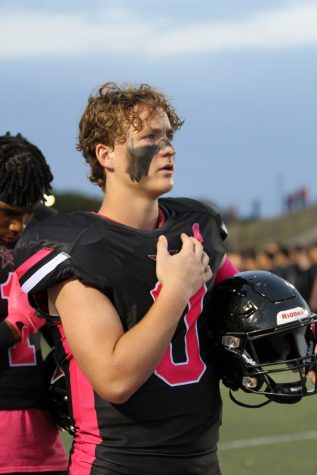 "I'm always confident in our offense: I think it's one of the best in the state," Coppell coach Antonio Wiley said. "Last week was a fluke. We went out and were rolling through a hot spot being 4-0, but we got humbled. Those experiences are a blessing in disguise because they came out clicking and clacking on all cylinders tonight."
But Coppell's defense, too, was a force to be reckoned with. During the fourth quarter, junior cornerback Zach Cody knocked a ball out of the end zone. On the next down, senior cornerback Braxton Myers stopped yet another reception in the end zone, clinching the victory. 
"This is the best complete game that we've played defensively," senior safety Matt Williams said. "We stopped the run up, and completely shut them down apart from a few big plays."
Next week, the Cowboys play at Plano East, and Wiley is already honing in on the plan of attack, hoping to better execute in third downs and secure a second district win. 
"I hope we get one step better," Wiley said. "Find something wrong and just go get better, especially at third downs."
Follow Shrayes (@shrayesgunna) and @SidekickSports on Twitter