Spirits high as touchdowns fly
Cowboys conduct a standout performance as the student section whites out.
Fans, football, fun – the Coppell community and team came together during homecoming to bring home the first game of the District 6-6A season. 
Facing stiff competition in the first half, the Coppell football team pulled away late to defeat Plano West, 46-35, on Friday at Buddy Echols Field. A 42-yard touchdown run by senior wide receiver Zack Darkoch put the Cowboys ahead 43-28 with 6:18 left in the game. 
"Winning just keeps momentum rolling, but we've got to keep going. We won the first one but we have to win them all," Coppell senior quarterback Jack Fishpaw said.
The Cowboys came into the game wanting to win for football and for the fans on homecoming night.
"
It means everything, having everybody coming here to support us – I don't even know how many people – but it's an amazing feeling to give them all a win."
— Coppell senior quarterback Jack Fishpaw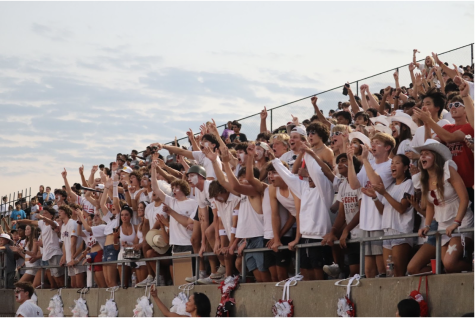 After receiving the ball to start the game, Coppell only needed 15 seconds for senior running back Blake Robbins to score on a 75-yard draw up the middle. 
The Wolves responded through Lucas Samsula, the Wolves' senior tight end, who broke three tackles on a post route into the end zone. Samsula's touchdown tied the game at 7 with 7:00 left in the first quarter.
With the game going back and forth – a rushing touchdown by Feuerbacker halfway through the second quarter put the Wolves ahead – Fishpaw turned to the ones he could trust. 
The Cowboys regained the lead in a single drive: a 30-yard kick return by senior wide receiver Ayrion Sneed, a 41-yard catch by Darkoch with two defenders draped over him and a 9-yard rushing touchdown by Robbins all combined to give Coppell a lead it wouldn't relinquish. After hitting his stars, Fishpaw called his own number and had a successful two-point conversion to make the game 15-14 to the Cowboys.
"I just trust those guys with anything and everything," Fishpaw said. "It's more than the field, it's in life too. If I can trust them in life, I know I can trust them on the field to make a play."
After three stalled drives, the Cowboys had one final drive before halftime, 70-yards from the end zone with 1:30 remaining. Watching Darkoch have his day, senior wide receiver Baron Tipton took his turn; facing third down, Tipton took a slant route 27-yards into the end zone – ending the half 22-14 Cowboys.
"I just know our guys are good and they're going to make plays," Fishpaw said. "Baron Tipton, he's that dude. If it's third down, I know he'll make a play." 
With the Wolves starting the second half strong – a 67-yard run into the end zone was luckily nullified by a holding call – Coppell's senior cornerback Braxton Myers took back momentum with an interception returned to the 30-yard line. 
"Going against [Darkoch] everyday, he's a burner," Myers said. "He challenges me every practice. He lets me compete against the best every single day, which lets me make big plays."
Following the interception, junior wide receiver Luca Grisoli caught a difficult pass down the sideline, giving Robbins great position to punch in a score to make it 29-14 to the Cowboys. After Feuerbacker's 60-yard scampering score, Coppell's offense responded with Robbins' fourth and final touchdown of the night. The fourth quarter began with the Cowboys ahead, 36-21 and momentum rolling.
"Momentum is huge. If everybody's rolling and the fans are going, then we can just keep doing what we're doing," Fishpaw said.
The Wolves' two rushing scores by Feuerbacker – either side of senior kicker Nicolas Radicic's 26-yard field goal – weren't enough to save the game. The game concluded as a high scoring affair, with the Cowboys and Wolves letting 11 touchdowns fly between them, totaling 81 points. 
The Cowboys set the tone they hoped for, coming home with a win on homecoming to begin their district season 1-0.
"Winning continued the tone for how we wanted to start district play. We started on top of the district and showed teams who we are," Myers said.
Coppell plays Lewisville (3-1, 1-0 in district 6-6A) at 7 p.m. Friday at Max Goldsmith Stadium.