Chang climbs to success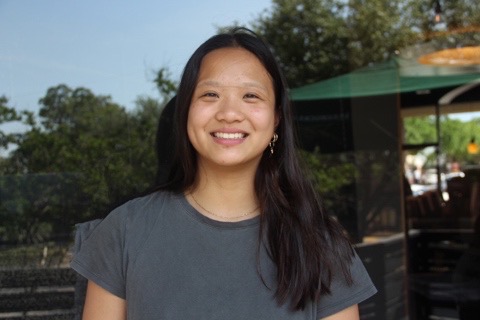 Annie Chang is a CHS9 student and a part of the Coppell Varsity Swim team and competed in state with her team this year. Chang has been swimming since a very young age where she began her passion for swimming and the water. Chang loves the community that swimming has given her and the confidence that her teammates have helped her gain through swimming.
What made you interested in pursuing swimming?
When I was little my parents enrolled me in swim classes just so I could learn how to swim and so that I wouldn't drown. But as I kept progressing and got better I started to love the sport and felt as if swimming was therapeutic. Swimming is also very different from the other sports that I played in the sense that it came somewhat naturally to me because I loved racing ever since I was little and I felt very calm under the water when swimming. And because of my growing passion, I decided to join a summer league which I loved so after that I decided to join a team to keep progressing my skills and to compete in larger competitions.
How do you balance being a varsity athlete and your school work?
It is definitely very difficult managing both but I feel like the more you start to play your sport and going to more practices, it sort of makes me adapt a schedule and stick to it. But I can understand from an outside perspective how managing hours of practice a week with schoolwork and social activities is very stressful. But in my perspective I feel as if I have to use every minute I have to accomplish what I need to do whether that be school work or practicing to get better. I still feel like I procrastinate somewhat, but it is just something that you learn with time to learn to balance everything.
Who is your biggest inspiration for swimming?
Some of my good friends are swimmers as well and they have showed me that swimming was more than just a sport and that it was more than just race times and competing. They have helped me see that I should just swim because it is a passion of mine rather than a responsibility that I have to be perfect all the time. My team also made swimming into a community rather than an individual sport.
How do you keep yourself motivated to keep improving and keep pursuing swimming?
Something that keeps me motivated to keep trying my best and working as hard as I can is the idea of swimming at the college level. I also think that I keep myself motivated by reminding myself that practice translates into meets and if I keep working as hard as I am especially on the little things I can do better in meets. And from those improvements at meets, I can have better opportunities to swim in college.
Follow @CHSCampusNews on Twitter.