Coppell excels at ICDC with 4 finalists and 4 top exam scorers
The Coppell High School DECA chapter accomplished numerous records at the International Career Development Conference (ICDC) in Atlanta from April 23- 27. CHS went back to in-person competitions successful as ever with 35 ICDC qualifiers.
With the significant number of qualifiers this year, eight won medals on stage, and four advanced to the second and final round of competition. The CHS finalists included CHS juniors Soha Alam and Anthika Gunaselan, sophomore Isha Rahi, and senior Kavin Sampath. Top exam scorers (calculated from the testing required for selected fields of competition) were CHS senior Rahul Balaji, junior Saniya Koppikar, sophomore Anveshi Goyal and CHS9 student Sabah Uddin.
"We did very well at the competition, as we broke three of the four records I had set for us this year," CHS DECA advisor Richard Chamberlain said. "The only goal we did not have was the most finalists; we had the most top-10 finishes, the most top performer medals, and the most qualifiers for ICDC with 35 students qualifying. We had almost an exact mix of sophomores, juniors, and seniors that comprised the 35 so that made me happy for the building and future of the program."
ICDC had more than 14,000 participants from around the world including students from the 52 chartered associations and was hosted at the Georgia World Congress Center. From more than 100 exhibitors from colleges and businesses to 2,000 advisors, the program was effective for students to learn about and discover business and entrepreneurship.
"I loved it, I got to meet so many people from around the country so the experience was very unique." top exam scorer and CHS sophomore Anveshi Goyal said. "I got to hear others' experiences with DECA from high schools in New Mexico and Hawaii and learned that it varies a lot across the nation. Coppell did great this year, a lot of the qualifiers were first-year DECA members and made it to ICDC which makes me excited for what next year has in store. "
When students were not competing, the opportunity to travel around Atlanta, meet new people and explore opportunities with career opportunities and mentorship programs was theirs. For many, the competition only lasted a few hours and the succeeding days were spent in independent development and growth.
"I can only describe my experience at ICDC as exhilarating," top 10 finalist and CHS sophomore Isha Rahi said. "I'm proud of my accomplishment, I hadn't expected to make it that far so I'm honored and grateful for the entire experience."
Next year's ICDC is in Orlando, Fla from April 15-18.
Follow @aliza_abidi and @CHSCampusNews on Twitter.
Leave a Comment
About the Contributor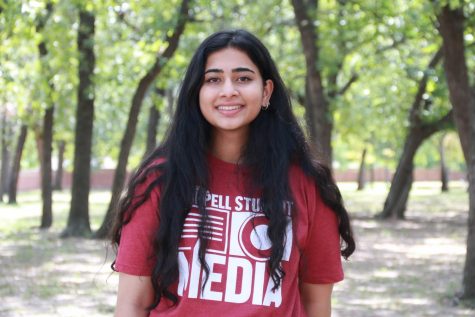 Aliza Abidi, Staff Writer/Photographer
Aliza is a junior and a second-year writer/photographer on staff. She enjoys writing, reading and taking photos. She loves listening to classical music...