Following a dream: theater journey of Priest
A tiny fourth grader looks at the stage she helped build. In the warm glow, she stands entranced as she watches her brother, Coppell High School 2018 graduate Wyatt Priest, transform into another person in front of her eyes, the musical instrument she was assigned to play temporarily forgotten. That's when she knew: she wanted to be in the spotlight.
Excited to follow her brother's footsteps, Coppell High School senior Sage Priest dove right into the theater culture at Coppell Middle School North. 
"I just wanted to be so cool and be like my brother, so I started to get into it from there," Priest said. "I have not slowed down since then."
Priest grew, both with her technical skills and her love for theater. In eighth grade, Priest began to pursue other theater opportunities outside of school to further her passion and talents  in the Performing Arts Center located in Grapevine.
Priest entered high school with confidence, joining the CHS theater program as a freshman.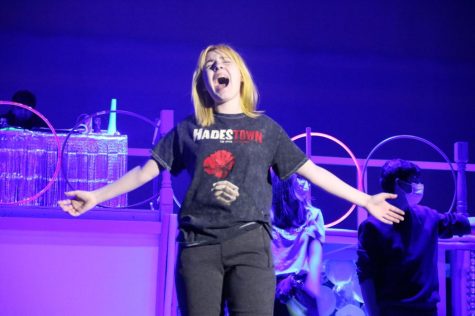 "I could see from the first day that I met her that Sage was talented," Coppell High School head theater director Karen Ruth said. "She has really figured out who she is over the course of these last four years."
The road to success has not always been easy for Priest. In freshman year, she was not cast in the school musical, "All Shook Up." However, that didn't discourage her from pursuing other opportunities the program offered her. 
"I got past the musical," Priest said. "I needed to make that year count in every other way, shape or form."
"
She has broadened her spectrum of what she is interested in and what she's able to do."
— Karen Ruth
As the years progressed, Priest began to get more involved with the program, dedicating out of school time and efforts to perfecting her craft. Through this extra time, she made close bonds with people in the program. 
"Any chance she had, she was at a build day or a workshop," junior Grace Hennessy said. "Her work ethic is an example to all of us. She's a role model when it comes down to it."
Priest was able to shift from her single ability in musical acting to other aspects of theater: costume designing, costume construction and choreography. 
"She has broadened her spectrum of what she is interested in and what she's able to do," Ruth said. "She has embraced her unique qualities."
Priest uses her current connections to build her experience in theater both at CHS and beyond. She currently works with North Texas Performing Arts.
As her time in high school ends, Priest has begun to plan for her future in the arts. 
Deciding what exactly she wanted to do was difficult, but she has been able to establish a concrete path with a primary focus on performing arts for her future career. Priest will attend DePaul University to get her Bachelor of Fine Arts in acting and double major in psychology. 
"Whatever Sage puts her heart and soul into next is her future," Hennessy said. "Anything that she does is always spectacular to see."
Follow Maya (@mvpalovalley) and @CHSCampusNews on Twitter.