Clig captures the true essence of soccer, playing on varsity as a freshman
Sweat trickles down CHS9's Jordan Clig's face as she runs towards the ball. With only a few minutes left and the score head to head, she aims, kicks and scores, shooting the winning goal against opponent, Solar, to help her team proceed to finals in the SuperCopa, a prestigious soccer tournament.
When looking at Clig's schedule, one thing stays consistently on the top of her priority list: soccer. She has been playing soccer for the past 12 years, playing recreation, club, select and currently Elite Clubs National League (ECNL) soccer for Sting Black. She plays for the Coppell varsity soccer team as a defender and forward, and is one of the few freshmen on the varsity team.
Why did you decide to play soccer?
I really just liked how aggressive and action packed it was. I've always, from a young age, really liked a lot of action and to be active, so I wanted to find a sport that let me get my aggression out. I was drawn to soccer because of the family type teams that I had. I was always with my team, and they were like a second family to me. And to have those close bonds with my teammates made me love the game 10 times more.
When did you start playing professional soccer?
I started playing recreational soccer at 3 and I played until I was 7 years old. Then I went into club when I was 7. I went to my first club team for about a year, and then I moved to FC Dallas where I got a little bit more advanced into select. Now I'm at Sting Black and I play for high school varsity.
How has soccer impacted your life?
Soccer has really changed my life. I really don't know what I would do without soccer. I'm doing soccer 24/7, I have high school practices every day and right now I only have club practices on Wednesdays. It's basically my whole life. When I don't have soccer, I really don't know what to do, because that's all I do.  It's helped my personality: I've become more of a leader outside of soccer as well.
What is a special moment that you have experienced through soccer?
In 2019, there was this big showcase going on called SuperCopa and we were in the semifinals against a really tough opponent; their team name was Solar. I scored the winning goal that game to put us to the finals. I think that moment was overall, a really crazy moment. 
Have you ever ventured into different positions other than defender and forward?
I really like playing all the positions. I think it's a challenge to be able to get put in a new position and have to play it. That's always been one of my favorite challenges: playing every position. And as I played soccer, that has been one of my biggest goals: making sure that I can play every position and play them well.
What are some challenges you face while playing soccer?
I have to say that last year's season was probably one of the biggest challenges I had to face with club soccer. I wasn't getting a lot of playing time and that kind of dented my self-confidence. I was in this little slump, as a player. And as a player, I can be very hard on myself. This year, I'm getting way more playing time and I'm a captain on my club team. I really got that confidence back, and when I got that confidence back, I noticed that I started playing better. 
And also the COVID-19 year, when I was on FC Dallas. When everything shut down, it was very challenging to keep up my touches, my footwork and my endurance, especially when I was playing three days a week to playing nothing. 
 If you were to give any advice to a future soccer player, what would it be?
Just work hard and believe in yourself. That's probably one of the biggest things that I've had to learn as a soccer player. No one can believe in you if you don't believe in yourself. You have to have that self confidence just to be a soccer player because there's a lot of things that could try to push you into not wanting to do the game anymore. Just be confident in yourself and just play your game.
Follow Sri Achanta (@sriachanta_) and @CHSCampusNews on Twitter.
Leave a Comment
About the Contributor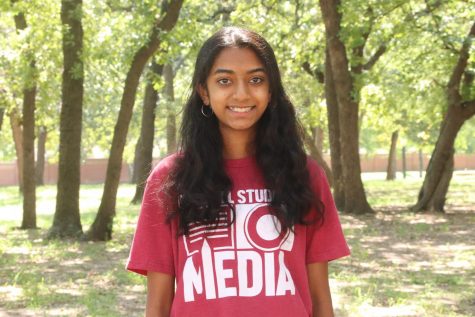 Sri Achanta, News Editor
Sri Achanta is a sophomore and the news editor for The Sidekick. In her free time, she enjoys playing the piano, reading fantasy novels and spending time...