Girls lacrosse takes down Parish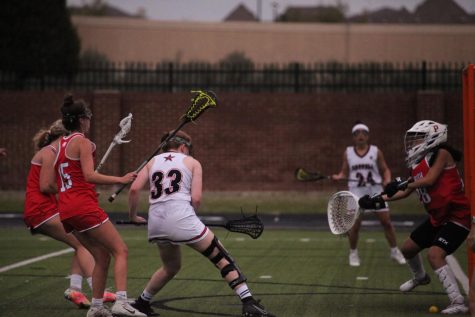 Three early scores by the Coppell girls lacrosse team set the tone on Tuesday night as the Cowgirls dominated Dallas Parish Esiscopal, 19-5, at Coppell Middle School North.
Parrish was given the ball but soon lost it in a toss up with Coppell storming down the field, Gunnels scoring and assisted by Wenzel in the first play.
The tempo of the game was set within the first five minutes, Coppell dominating Parish by getting a clear lead of 3-0.
Following an early timeout Parish regrouped to score but they were no match for Coppell's aggressive defense.
"We kept our heads up even when we could have chosen not to, and we really played with more confidence than we had before," said senior Finley Tipton. 
Coppell maintained possession most of the game, with Parish struggling against an unrelenting defense that shifted the plays into their favor.
Parish defense could not slow the passing of the Cowgirls.
"We were really good about seeing the open person and making good passes to them. We did our best to get it to them and they did really well finishing the shot," said sophomore Sydney Gunnels. "We're focusing on trying to keep the intensity".
Even when one of the many Coppell shots missed, a cowgirl was often there for the rebound and another shot attempt.
Follow Olivia (@Olivia_Short1) and @SidekickSports on Twitter.