District assessing academic performance, looking at tools to monitor student progress
Monday night's Coppell ISD Board of Trustees meeting was centered around a presentation analyzing data regarding students' learning and growth.
The presentation displayed the different measures CISD takes to analyze academic improvement. District assessment tools including Measures of Academic Progress Growth (MAP), mCLASS and iStation are used to assess student development by looking at a student's skill level change between assessments.
Educators are able to see the levels of improvement by reviewing reports offered by the mCLASS and MAP softwares. mCLASS is an application that students from grades K-6 can use to help bolster their literacy skills. MAP, on the other hand, is used for measuring achievement and growth in math, reading, language use and science for students K-12. 
MAP and mCLASS provide similar student growth summary reports, helping administrators better drive their instruction. Both applications distribute reports to parents, explaining their child's growth throughout the school year, and even offering tailored suggestions focusing on strategies to be successful academically.
"As a parent, how useful this information is right here for us," trustee David Caviness said. "My kids are all dyslexic, and when we first started we kind of never really knew where they stood, but when we got [the MAP results], I'm looking at it and I'm like, 'yeah, he's making that progress,' so this has probably been the most useful report I've gotten as a parent."
The presentation included the threat assessment that CISD has implemented. The Senate Bill 11 requires public schools to conduct behavioral threat assessments and collect data on its effectiveness. 2021 was the first year CISD started collecting data on threat assessment. 
Through Panorama surveys, data was collected to see where students stood in regards to their mental and academic health.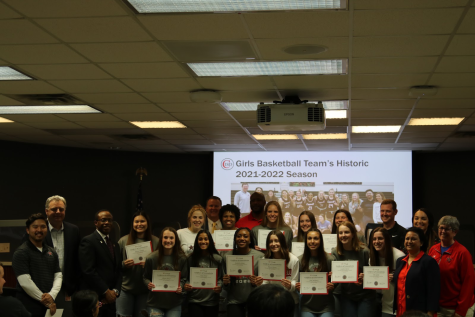 "We asked some open-ended questions this year to dive a little deeper into what our learners feel like they could use for support," CISD assistant superintendent of curriculum and instruction Dr. Angie Brooks said. "When we talked about what topics you would like to see in your school, [students responded with] drugs, suicide prevention, emotional and mental health. We are going to be using that data and that information to create programs for the counseling team to launch on everyone's campus so that we can address those needs."
The board recognized students for their excellence in arts and athletics.

Coppell Middle School West sixth grader Nikita Pradeep was recognized for her artwork that won the State Flag Design Contest as part of Youth Art Month, Coppell High School senior Maria Husain and junior Scout Carrell were recognized for medaling at the Class 6A State Wrestling Meet and the Coppell girls basketball team was recognized for its historic 2021-22 season.

"The word amazing does not begin to do justice to describe this team," Board of Trustees President Nichole Bentley said. "We talk a lot about redefining success here in CISD and these girls basketball achievements showcase redefining success, when you think about that last year the team was 13-13. The Cowgirls basketball team's success is something that truly brought our community together." 
Follow Sri (@sriachanta_) and @CHSCampusNews on Twitter.