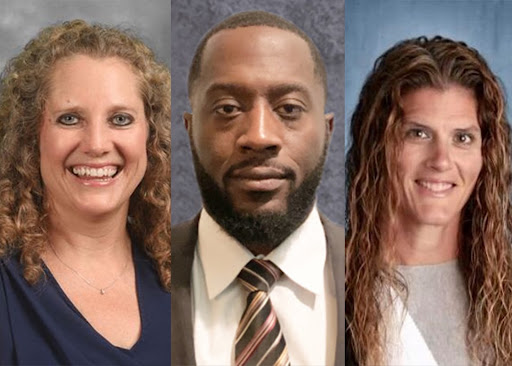 Photo courtesy Coppell ISD
Friday marked a major change in the Coppell football program and volleyball program, as well as in Coppell athletic administration.
Coppell ISD announced today that Wichita Falls Hirschi coach Antonio Wiley has been hired as Coppell football coach and boys athletic coordinator. The district is hiring Coppell faculty athletics liaison Dr. Roxanne Long, currently a Coppell High School math teacher,  as girls athletic coordinator
Nansemond-Suffolk Academy (Virginia) coach Robyn Ross is the new Coppell volleyball coach. 
"We are all about relationships in CISD athletics, and all three of our new hires share in this philosophy," Coppell ISD Athletic Director Kit Pehl said in a statement. "I know that Coach Wiley, Dr. Long and Coach Ross will put students first as they carry on our tradition of 'Cowboy Fight Never Dies.'"
Wiley, who has coached Hirschi for three years and accumulated a record of 24-12 in three seasons, led Wichita Falls Hirschi to a 12-3 record in 2021 and reached the state semifinal game for the first time since 1964. Prior to Hirschi, Wiley was the defensive coordinator at Lewisville. Wiley was a safeties coach that helped lead Lake Travis to a state championship title game appearance in 2016. Wiley also served as a defensive coordinator at Mesquite Poteet and spent five seasons at Nevada Community.
"Coppell High School has always been a premier program in the state and to have an opportunity to become the head football coach and boys' athletic coordinator is a tremendous achievement," Wiley said in a statement. "Coppell ISD has a great reputation for being a family-oriented school district, and my family and I are elated to be joining the Cowboy Family and be part of the 'Cowboy Fight Never Dies' tradition." 
Wiley replaces the winningest coach in Coppell football history, Mike DeWitt, who resigned after eight years and led the Cowboys to a 54-35 with back-to-back double-digit win seasons in 2016 and 2017.
Dr. Long, who is currently a statistics teacher, brings immense coaching and athletic administration experience into the Coppell athletics department. Dr. Long previously served as Senior Women's Athletic Administrator at Texas Lutheran University and Athletic Council member at the University of North Texas.  
"I am beyond excited to move into athletic leadership in Coppell ISD as the girls athletic coordinator," Dr. Long said in a statement. "Athletics within the greater context of academics is a lifelong love of mine. Coppell ISD's excellence spans all facets of education. It is an honor to be here at Coppell and I truly appreciate the opportunity to serve as girls' coordinator."
Dr. Long was also a head women's basketball coach for 14 years with stops at Rogers State in Claremore, Okla., Texas Lutheran University,  Keller Central and Fort Worth Diamond Hill-Jarvis. Notable accomplishments of  Dr. Long's coaching career includes an NAIA College National Tournament Sweet 16 appearance while at Rogers State and a finalist for Texas High School coach of the year while at Central.
Coppell 1995 graduate, U.S. Air Force Academy 2000 graduate and volleyball coach for Nansemond-Suffolk Academy in Virginia, Ross returns to Coppell ISD to be the next volleyball coach. Ross is the most successful coach in NSA history, leading the team to an overall record of 272-79 during her tenure. In her 12 seasons at NSA, the team has played in ten consecutive State semifinals, with six appearances in the state championship match and three state championship titles. Ross is the only volleyball coach in NSA school history to win a state championship . A veteran of the U.S. Air Force, Ross served as a logistics officer on active duty from May 2000 until 2006.
"We are thrilled to have coach Ross return to CHS as our new head volleyball coach," Coppell ISD Superintendent Dr. Brad Hunt said in a statement. "Having known her when she was a student and athlete at CHS, it is extra special to see her come back home to lead our volleyball program.  She is an incredible force that will add much to our girls' athletic program."  
Wiley, Dr. Long and Ross begin their duties at CISD on March 1. 
Follow Meer (@mahfuz_meer) and @SidekickSports on Twitter.