Finding footing in soccer, school
Coppell High School senior Claire Yaney's last year in high school has been anything but uneventful. From soccer to clubs to classes, Yaney's high school years have led to her accomplishments in her senior year. To her teachers, soccer coach and mentors, Yaney is a student who excels in every responsibility she has.
"[Senior year] has been such a special year for me," Yaney said. 
Yaney has been playing soccer since she was 5. After starting high school, she has also been involved in CHS Student Council, CHS prom committee, Coppell Competitive Shooting Team and started the Coppell Fun Run Club. This year, Yaney is a senior class representative and a Red Jacket ambassador.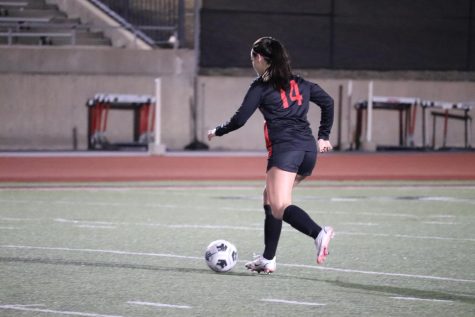 "[Yaney] is extremely responsible and organized," said Lucy Grimmett, Yaney's precalculus teacher and CHS Student Council sponsor. "She knows how to manage all her work without overworking herself."
Yaney's dedication to her responsibilities has earned her a reputation as a proactive, hard-working and personable student. While on the prom committee in student council, Yaney was a key member who helped figure out the themes and venues for this year's senior prom.
"[Yaney] is very methodical," said Benjamin Stroud, Yaney's English teacher and Student Council sponsor. "She's always coming up with good ideas and helping us manage tasks."
As a center back for the CHS girls' varsity soccer team, Yaney takes on a trusted position directly in front of the goalkeeper. Her tasks include communicating with the rest of the team, reading the game as it unfolds and being a reliable player: all of her skills.
"Her personality matches the leadership style that [the team] needs," Coppell girls soccer coach Fleur Benatar-Whitten said. "She's an overcommunicater, which is exactly what we need, so she's like a coach on the field."
Yaney is a senior captain and helps Benatar-Whitten manage the rest of the team and get the players on the field after given instructions. To the coach, this skill of being able to get the group to start working is invaluable.
"[Yaney] is my go-to person on the team," Benatar-Whitten said. "She's my liaison between me and the team."
Outside of school, Yaney plays for the Dallas Texans 03 Club. While the CHS soccer season lasts from January to April, club soccer is year round, which allows Yaney to continue playing soccer as college recruiting starts for soccer. As a freshman, Yaney competed in the Gothia Cup and Cup No. 1 in Sweden and Denmark with her club soccer team.
"Club soccer and school soccer go hand in hand, and being in these teams have given me a lot of opportunities," Yaney said. "I've learned to be more confident in my abilities and communicate well with others, and I've become more social because soccer requires you to do so."
While Yaney involves herself in soccer and school programs, she also excels as a student, often participating in discussion in her precalculus class and writing poems for her English class. One of her paintings from English class is on display in Stroud's room. 
"[Yaney] has always been a good student and advocated for herself and others," Grimmett said. "I can rely on her to lead her peers."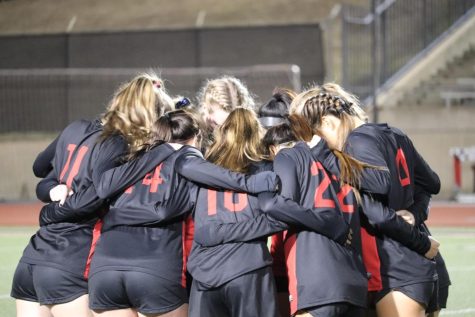 To Yaney, managing all aspects of her life is rewarding. After years of being involved in multiple activities, Yaney has created a routine for herself to stick to. 
"It's all about finding a balance between work and play, and soccer is a way for me to release stress," Yaney said. "I keep a calendar, which helps me stay organized in everything I do."
In the future, Yaney hopes to play college soccer. 
"The Cowgirls soccer family welcomes everyone," Yaney said. "If you're interested in soccer, come with a coachable attitude, and anything's possible – it might be the best part of your life."
Follow Yaamini (@yjois12) and @CHSCampusNews on Twitter.