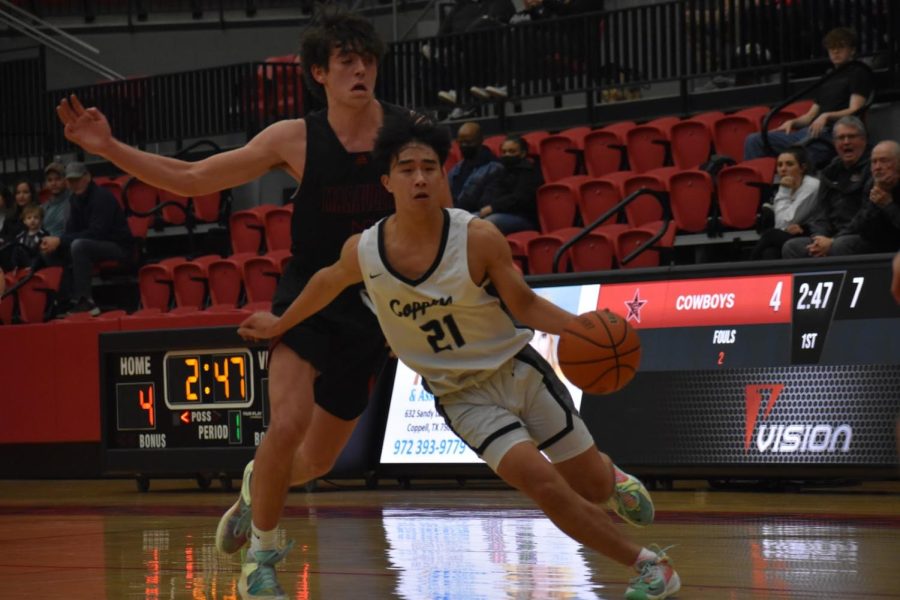 Nick Larry
A 3-pointer by Coppell senior guard Naz Brown tied Flower Mound Marcus with 6:19 minutes remaining. 
But as the minutes ticked down, fouls started to rack up on both teams with the Cowboys putting the Marauders in the bonus and taking advantage at the free throw line. Marcus claimed a 60-49 victory over Coppell on Tuesday at CHS Arena. 
"We put ourselves in a position to win ourselves a game," Coppell senior guard Devank Rane said. "But we didn't do enough to come out with a win."
Coppell coach Clint Schnell wanted to see better execution and attention to detail from his team.
"We didn't make enough plays we wanted," Schnell said. "Got to take care of the little things that'll let you win a basketball game."
Marcus led, 9-8, after the first quarter. The starting line up included senior forward Noel Berne, senior guard Devank Rane, senior guard Nazir Brown, sophomore forward Arhan Lapsiwala and sophomore guard Alex Tung.
"Our effort and energy were high," Rane said. "We've been struggling with that for a bit."
Moving into the second quarter, Brown scored a 3-pointer, tying the score with 4:15 remaining in the quarter, giving the team the boost they needed.  Reaching halftime, the Marauders led, 24-18. 
Coming into the third quarter, the Cowboys (17-12 overall, 4-4A in District 6-6A) began to get frustrated towards the beginning and its defensive tactic started to loosen. Noticing this, the team rallied and started to get its energy up.
The third quarter ended with a score of 32-38, the Cowboys tailing closely behind the Marauders. 
Coppell looks to rebound in District 6-6A play on Friday at Hebron.
Follow @mvpalovalley and @SidekickSports on Twitter.