"A Ring of Truth" marks Madrigal's first feast at CHS since pandemic
Last Friday, the Coppell High School Commons was transformed into a medieval banquet to set the scene for the Madrigal feast. The CHS Choir celebrates the Madrigal feast yearly with a different play.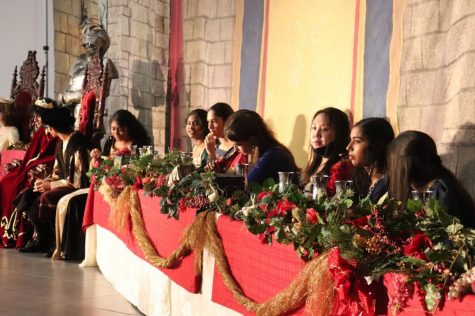 This year's feast marks the first that the Madrigal choir has performed at CHS since 2019.
"[The feast] felt more disconnected since we performed at The Sound last year," said CHS senior Alyssa Bargas, who performed as the fortune-teller in the feast. "I'm excited for it since there's so much preparation that goes into the show."
The Madrigal choir performed "A Ring of Truth", a tale about a fortune-teller's magic ring causing a King's court to speak their truths. CHS senior Joseph Mathew took on the role of the King with New Tech High @ Coppell senior Natalie Bennet as the Queen. 
Dinner was served to the audience members and fit the early-Renaissance theme, consisting of roasted chicken, vegetables and potatoes. While the audience members dined, the choir continued their performance.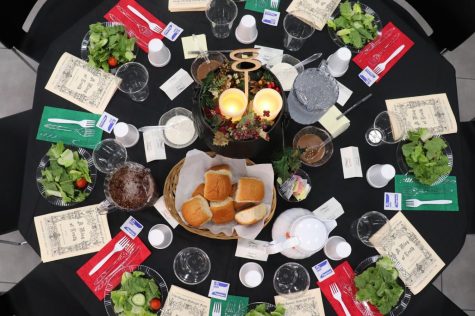 Former Coppell Middle School North choir teacher Charlie Lotspeich was invited to the show by many members of the Madrigal choir who were former students of Lotspeich. During an interactive portion of the performance, Lotspeich was selected to speak with Mathew, who was still in the role of King.
"I loved the show the Madrigals put on today," Lotspeich said. "I especially enjoyed [New Tech junior Aman Chiniwala]'s role as Lord Darnell."
Following the Madrigal choir's tradition, Madrigal alumnus in the audience were invited to join the choir as they sang "Silent Night". JC Humen was one of the alumnus who joined the choir and was a member of the Madrigal choir from 2014-16.
"The Madrigal choir performs 'Sweeter Still' every year, and this year's choir performed it very well," Humen said. "The highlight of the show was the acting, such as from [Chiniwala]."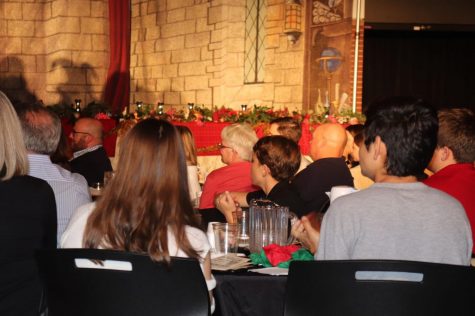 As the show wrapped up, the choir performed "Say, Love" and exited the stage in pairs. The Madrigal choir came back on Saturday to perform the show one last time. 
"As a senior, it's important to me that I get to act this year," said CHS senior Megna Gopinath, who performed as the Jester. "Being a part of this choir means everything to me, so I finally got to fulfill a dream I've had for years."
The Madrigal choir consists of sophomores, juniors and seniors in CHS and New Tech. For the seniors, this feast is a sentimental event. 
"[The Madrigal choir] is a group of people who love music," said CHS senior Shambavvi Anand, who performed as Lady Madeline. "[The choir] is like a family, and we spend so much time together."
Follow Yaamini (@yjois12) and @CHSCampusNews on Twitter.