From Cowgirl to Tiger: alumna roars her way back onto the field for championship success
Eight weeks without playing the sport she loved—eight treacherous weeks—were not enough to deter Coppell High School alumna Maya Ozymy from getting back onto the soccer field with the same aptitude and drive she displayed in her past. 
The same aptitude and drive that propelled her team to victory in the Southern Collegiate Athletic Conference (SCAC) with the score of 5-0 against Southwestern on Nov. 7. 
Since playing soccer at CHS, Ozymy furthered her soccer career and educational career at Trinity University, where she's a freshman majoring in psychology. In starting her first season with the Tigers, Ozymy injured her ankle before heading into conference play, to which she expected to be sitting on the sidelines for the rest of the season.
"
It definitely put soccer into perspective for me"
— Maya Ozymy
Ozymy suffered a high grade ankle sprain, going down immediately. As she was dribbling the ball and changing directions, her defender, who was late to the tackle, stepped on the inside of her foot, causing her ankle to pop. 
According to Ozymy, after about eight weeks of letting herself heal and get back on her feet, she thought that she wouldn't have gotten the opportunity to play let alone in a championship game due to how far the team was into the season. 
"I had the mindset of wanting to get back as soon as possible without moving too fast and injuring myself again," Ozymy said. "It definitely put soccer into perspective for me, and I appreciated the time I got to play a lot more, even every single practice and every single lift."
However, Maya's injury nor time off from the sport thwarted her passion and drive for soccer, and she was back on the field just in time for the SCAC Championship game against Southwestern.
As a team, the energy among the Tigers was driven by the excitement and stakes of the match, according to Ozymy. Due to a loss previously in the season against Southwestern, Trinity was looking for redemption.
"It was a big game for everyone," Ozymy said. " I had just come off an injury from all of regular season so I was just excited to step on the field."
The game marked a major victory for Trinity, being its 12th SCAC title in the past 13 seasons, as well as a momentous personal victory for Ozymy: she had overcome all that she had befallen to. 
"[Ozymy] has such a hard drive and pushes herself a lot," said CHS senior Sadie Ozymy, Maya's sister. "Whenever she got her injury, I knew she would be back because she pushes herself and knows what she wants to play."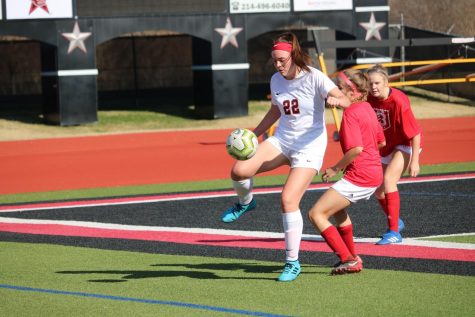 However, Maya's list of successes and accomplishments do not begin at her time as a Tiger, but instead she has cultivated quite the reputation and impact on the CHS soccer team. Maya happily reflects on her memories at Coppell, going to the fourth round of playoffs and playing Southlake Carroll in preseason play of her senior year as some of her most fond experiences and accomplishments. 
According to Sadie, the Southlake Carroll preseason match was one of the few times that she was able to play alongside her sister while she was a senior in high school. Both Maya and Sadie scored goals adding to the decisive 7-2 victory, making the match a bonding and exciting experience. 
Notwithstanding, it is clear that for Maya, and her team, that her most grand and influential accomplishment was being named captain both her junior and senior years. 
As a captain, Maya always sought to put her best foot forward for the team by encouraging it and leading by example.
"She told us to keep going and keep trying hard no matter what the score or what was happening on the field," said CHS senior Bailey Peek, Maya's former teammate. "[Maya] was always positive but also held [us] accountable; she was both talk and action."
These leadership qualities are lessons that she now carries forward into her college career, even without the title of captain attached to her name. 
"CHS taught me a lot about leadership and being a leader without being an upperclassman or a captain," Maya said. "That's helped me in college a lot, teaching me to be the best teammate possible regardless of the situation."
Maya's imprint on CHS and Trinity is already well-established and highly revered not only because of several individual and team awards, but because of her leadership qualities and persistent, positive mindset that she maintains no matter the situation.