Kimball announced as Teacher of the Year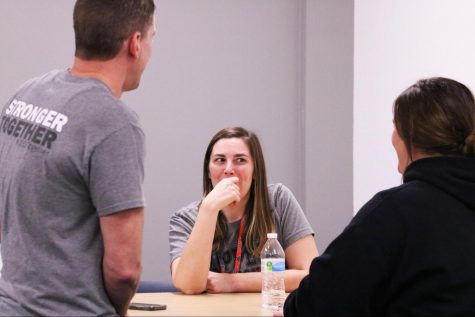 Today, in Coppell High School's C hall, GT chemistry teacher and chemistry department head Sorelle Kimball was named the 2021-22 CHS finalist for Teacher of the Year. 
Kimball was a nominee for the award along with football coach and physical education teacher Jay Jones, geometry teacher Phillip Smith, English teacher Emily Pickrell, social studies teacher Miranda Portteus and chemistry teacher Courtney Crosby.
"It feels really good to be acknowledged," Kimball said. "So many former students, fellow teachers and other staff members have come by to congratulate me, and [that]'s been such a nice sentiment."
Kimball has been teaching chemistry at CHS for seven years. Previously, she taught biology and chemistry for two years at Faith Family Academy in Dallas as well as two years at Berkner High School in Richardson.
After being announced as this year's recipient, Kimball was surprised with a marching band performance, gifts, a visit from her family and a cheering crowd outside of C hall. 
Initially a biology teacher, Kimball was pushed to teach chemistry at Faith Family Academy. While hesitant in the beginning, Kimball found a new goal for herself as a chemistry teacher: to help her students feel more confident learning chemistry than she did as a student in high school. 
"Working with [Kimball] is an opportunity to see someone who goes above and beyond to help students express their knowledge in creative ways," Crosby said. "She always finds alternative ways to teach the content to her students."
Kimball's dedication as a chemistry teacher is noted by her fellow teachers and CHS Principal Laura Springer. 
"[Kimball] makes my heart sing," Springer said. "No matter what she's doing, she always puts her students first, and everything I want in a leader. To me, that's what a teacher of the year is supposed to be."
Kimball started teaching at CHS in 2014, and has since taught biology and physics, but now teaches GT chemistry along with Crosby. 
"I really love seeing the lightbulb moment when I'm explaining something to a student," Kimball said. "I want [my students] to feel confident and enjoy what they do in our class."
From storybook projects to VSEPR theory models, Kimball has created numerous interactive projects for her students every year to help them be more engaged with the content. This year, Kimball hopes to implement a project for her students where they can create their own paint using chemistry. 
"She's a great team player and model for her students," Crosby said. "She shows her students they can pursue their passions while supporting others as well."
Follow Yaamini (@yjois12) and @CHSCampusNews on Twitter.