Irony comprises core of theater's next show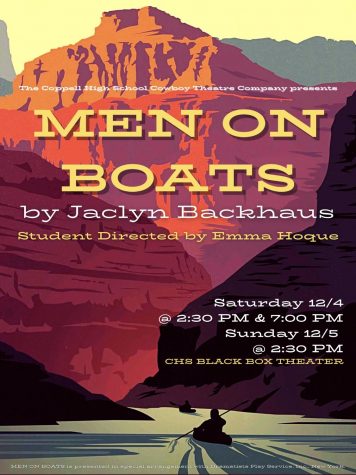 The comedy behind the Cowboy Theatre Company's upcoming production starts with the title: "Men on Boats." This play is anything but men on boats, with the cast played exclusively by those who are non-cisgender males.
Inspired by an 1869 exploration, this show is based on the tribulations John Wesley Powell and his peers faced when exploring the American West.
The play opens Saturday at 2:30 p.m. at the Black Box Theatre and plays another time on Saturday at 7 p.m. and Sunday at 2:30 p.m. Tickets are $5 for students and $10 for adults. Tickets are free for Coppell High School theater alumni and Coppell ISD employees. The play is rated PG due to references to alcohol, cigarettes and the supernatural and is to run for about two hours with a 15 minute intermission. 
Production started with auditions in September. The production was almost entirely student directed, with support from CHS theater director Karen Ruth. 
"Everything is extremely lighthearted and it's a really funny show," CHS sophomore stage manager Akshadha Challa said. "It will literally lift your spirits. I have seen this show time and time again, and it never fails to make me laugh. The audience should come with no tension, leave it all at the door and just prepare for a good time."
Follow Sri Achanta(@sriachanta_) and @CHSCampusNews on Twitter.