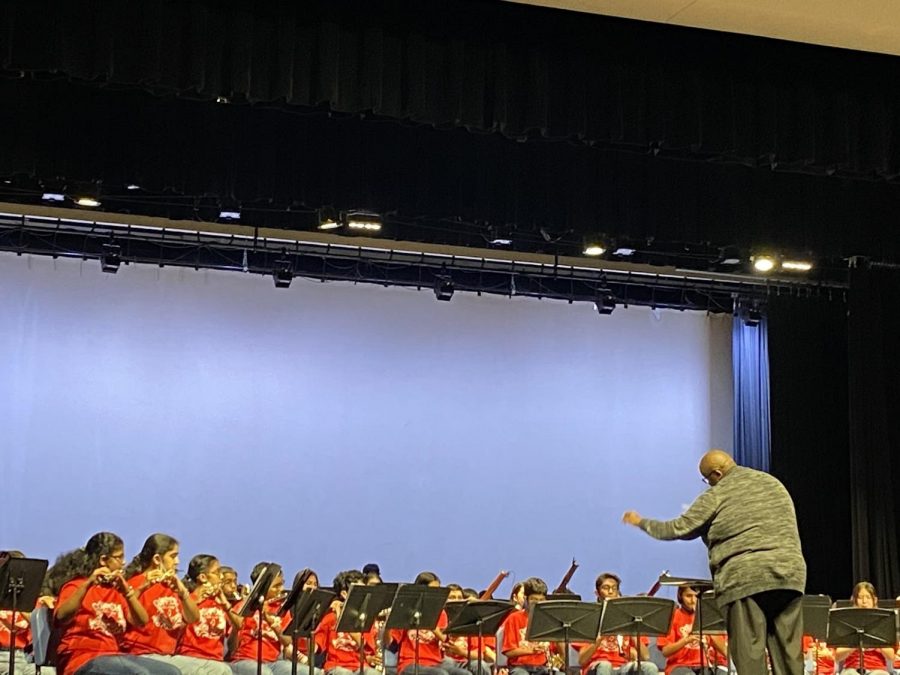 Manasa Mohan
Minutes before the Coppell High School Auditorium welcomed attendees at 7 p.m. on Thursday, the Coppell ISD Middle School All-City Band were getting into position, checking their instruments and adjusting their music sheets ready for the swarm of guests that were about to arrive. 
Excited energy filled the air as attendees prepared for the first All-City Band concert since 2019 due to the COVID-19 pandemic. Unlike other programs who were still able to host in-person or Zoom events, the All-City Band chose to hold off on the event in 2020, but returned to the tradition on Thursday. 
That enthusiasm served as the basis for a lively atmosphere for the rest of the night as the band played several pieces from a variety of composers, with one of the pieces being written by Owens himself. Owens has composed more than 200 pieces for concert band, string orchestra and small ensemble and prior to retiring in 2014, served as a band director for 30 years. In 2014, he was recognized by the Texas Bandmasters Association as the feature composer and was named distinguished alumnus by his alma mater, VanderCook College of Music in Chicago. 
The night began with "Fiesta Espanola", a Latin-style piece created by Timothy Loest. The piece features strong bass lines, authentic percussion, woodwinds, and a trumpet duet. The band then played "Morning Mist" by Robert Sheldon, a lyrical piece which incorporated light melodies and a soft harmonic touch. The direction was changed completely when the band played "Caverns of Sonora", a mysterious intriguing piece composed by Owens and inspired by his travels to Sonora, Texas. The band ended the night with "A Builder's Dream" by Andrew Sims, a piece with grooving rhythms and memorable melodies. 
For both the All-City Band and Willie Owens, this has been the first performance since March 2020. Therefore, the preparation for this concert was quite a bit different from normal, however, the audience for this event was vast and excited for the band to perform. 
"After a forced hiatus, this is very therapeutic," Owens said. "It's like a breath of fresh air. I was in Salt Lake City when we came face to face with the seriousness of the pandemic and at that point I was worried how I was going to get home to Texas. This is the first group I've conducted and the first group of kids I've worked with in a year and a half and it feels good to be back."
For many members of the All-City Band, when they graduate from their respective middle schools and potentially attend CHS, the goal is to be a member of one of the various bands at CHS. With the band's recent fifth place finish at the University Interscholastic League State Competition and eighth place at the Bands of America San Antonio competition, many members of the All-City Band hope to one day live up to the precedent that this year's band has set.  
"I would definitely join [the] band in high school," CMS West flute player Nithya Krishnamurthy said. "Band is a fun, exciting thing to do and you get to make a lot of memories with new people you don't know. [Placing as high as the CHS band did at the UIL State Competition and at Bands of America San Antonio] is definitely one of my goals to achieve when I join the CHS band.   
In preparation, the All-City Band rehearsed tirelessly to perfect the four pieces they performed during the show. For the 103 members of the band, some of whom know each other and some of whom don't, they had to learn to rehearse and play as one cohesive group from three different schools. 
"These are always just a whirlwind," Owens said. "You come in and you see a bunch of folks you've never met before, so what I have to do is make 103 friends very fast so we can get a working relationship and we can get working and get things going. When you do that, things come together very quickly, it's miraculous."
Follow @CHSCampusNews and @Manasa_Mohan_7 on Twitter.