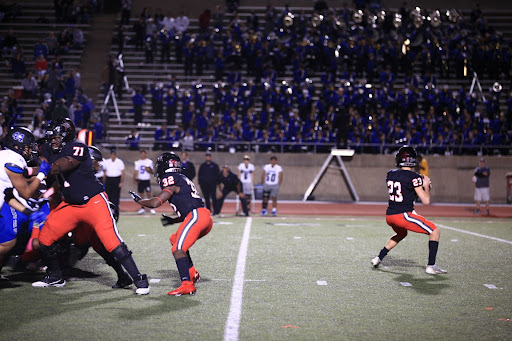 Olivia Short
The Coppell football team has been plagued with inconsistency throughout its season. Despite a handful of stellar performances earlier in the season, the Cowboys have lost two straight games and are coming off a loss that saw their team sputter on all three phases. 
However, going into Friday's District 6-6A clash against state-ranked Lewsiville at Max Goldsmith Stadium, with kickoff at 7 p.m., the Cowboys will have to play their very best in order to defeat the Farmers.
"The guys have done a good job at putting last week behind us and focusing on Lewisville, who is a very good football team; I expect our kids to go out there and play hard," Coppell coach Michael DeWitt said. "We will certainly have our hands full."
The Fighting Farmers (7-0, 4-0 in District 6-6A), who are ranked No.20 in the state, hold a plethora of talent and their prolific offense that averages 478 yards-per-game will give the Coppell (3-4, 2-2) defense everything it can handle and a little more. 
"First and foremost, you have to stop the run and that has to be a priority," DeWitt said. "Then you have to be able to do some things in the secondary over the top to stop those big play receivers whenever you can. The hard part is when you try to double a guy or keep two high safeties, you'll be short a guy in the box for the run so there will be times where secondary guys who are going to match up and be on an island. We're going to have to guess right and the guys have to make plays because you can't cover all of them and you can't take everything away. Our kids have done a good job at picking up the game plan."
Lewisville sophomore quarterback Ethan Terrel, a top Class of 2024 quarterback prospect, has thrown for 1,550 yards, 12 touchdowns and two interceptions. Senior three-star running back Damien Martinez, a Oregon State commit, leads the running effort with 1,038 yards rushing and 16 touchdowns on 103 carries. 
Lewisville senior four-star wide receiver Armani Winfield, a University of Texas commit, leads the receiving effort with 546 yards receiving and six touchdowns on 29 receptions. Senior wide receiver Kye Stones chipped in 433 yards and three touchdowns on 20 receptions while senior wide receiver Brent Allen brought in 302 yards and three touchdowns on 13 receptions.
Lewisville sophomore safety Jaydan Hardy, a four-star prospect, is a crucial part of the Fighting Farmer's secondary. 
For Coppell, the inconsistency in the level of offensive execution will be a cause for concern  coming off the loss to Hebron last week. In the Cowboys' first nine possessions, Coppell was forced to punt five times, was intercepted twice, had a field goal blocked and fumbled a kickoff return. 
Rebounding off such an offensive performance will be crucial for the Cowboys against a team that averages 45 pointer-per-game. The typically astute offensive line fell apart after the Cowboys dug itself into a hole, was forced to pass and made its offensive game plan predictable for the Hawks. 
"Inconsistency is something that happens with young teams sometimes so we have to keep starving, working on it, focusing and practicing on it," Coppell offensive coordinator Jay Jones said. "Everything piled up on us against Hebron and we started pressing; [going forward], we can't start pressing, we just have to do what we can do by staying within ourselves and keeping it close to give ourselves a chance to win."
With three games remaining, the Cowboys are still in control of playoff destiny. Winning all three games guarantees that Coppell is in the playoffs. Two wins will require some help from other teams. 
"We need to win all three, plain and simple," Jones said. "The reality is that we want to win all three of them and our focus has not changed on going out and competing, doing our absolute best and executing. If we execute, we give ourselves a chance to win." 
Follow Meer (@mahfuz_meer) and @SidekickSports on Twitter.