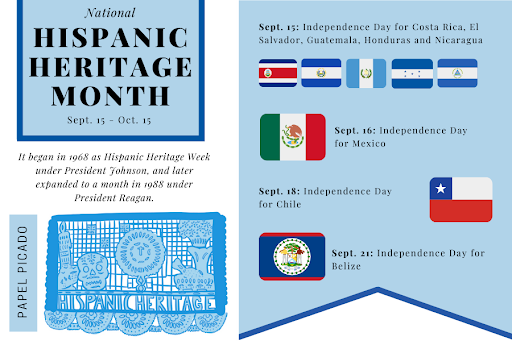 Avani Munji
Hispanic Heritage Month comes to a close today after 31 days of festivity beginning on Sept. 15. The efforts of the past month of celebration are evident within the walls of Coppell High School. 
The CHS chapter of the National Spanish Honor Society held a poster contest this month.
"Through these posters, we're showing what the culture means to each of us," senior club secretary Vibha Kolathaya said. "It's beautiful, because it connects differently to everyone."
The posters NSHS created are examples of how essential and ingrained Hispanic culture is in the fabric of American society. 
Though the club has been especially active this month, NSHS works year-round. It seeks to spread knowledge of Spanish language and culture and cultivate members' interests through activities, volunteer work and its YouTube channel where students upload recipes, comics, poems and short lessons in Spanish. 
Because a majority of the students in the Spanish Honor Society are not Hispanic or Latino, many have cultivated their knowledge through classes they have taken at their middle school and CHS. 
According to the U.S. Census Bureau's demographic measurements of Coppell, the city's population in July 2019 was predominantly white at 55.5%, Asian at 24.4% and Black at 4.2%. The Hispanic/Latino population was 13.1%. 
As of January 2021, the City of Coppell's Economic Development Department's demographic measurements have changed with 51.5% of the population being white, 26.5% of the population being Asian, 5.6% of the population being Black and 13.15% of the population identifying as Hispanic or Latino. While the population identifying as Hispanic or Latino in Coppell is around one-eighth of the total population, cultural boundaries didn't stop students from learning and exploring. 
IB Spanish teacher and CHS's National Spanish Honor Society chapter co-sponsor Emily Holmes wants to open her students' eyes to the beauty of Hispanic culture.
"It's important for all the different cultures to be highlighted and [to] learn about different ways each culture enriches [our] community," Holmes said. 
A national celebration of the contributions made by Hispanic Americans to the United States, Hispanic Heritage Month was established in 1968 as National Hispanic Heritage Week but expanded to a month in 1988 under President Ronald Reagan. 
Though it was created in order to preserve and celebrate global identity––specifically Americans with origins in Spain, Mexico, the Caribbean, Central America and South America––and accomplishments, Hispanic Heritage Month also recognizes the instrumental role these Americans play in shaping the American cultural melting pot.
Still, the far-reaching scope of Hispanic Heritage Month is not too wide for Coppell residents to tackle. 
"It shows that different people can respect different cultures," CHS senior National Spanish Honor Society president Tanya Sikka said. "Even if we're not Hispanic, the most important thing is to respect our differences and show that we want to learn and we want to know more about other cultures." 
From revolutionary leaders and political revolts, Hispanic cultural traditions formed through hardship and triumph continue to influence modern society. 
Follow @SaniyaKoppikar and @CHSCampusNews on Twitter.