Teacher of the Week: Williams striving to make her mark through past experiences
Coppell High School visual arts teacher Sarah Williams started teaching at CHS this school year. Being a former elementary art educator at Fort Worth ISD, she hopes to use her previous experiences to nurture an environment where her students feel comfortable expressing themselves and their individuality. 
What inspired you to become an art teacher?
I didn't have art growing up, so I didn't get to take art classes until I reached Stephen F. Austin University in 2008. I found out I loved it and went in that direction with my fine arts degree. Coming out of college, I initially did not go into teaching. It wasn't until later on when my husband inspired me to get into teaching because he was also in the education field. 
What goals do you hope to accomplish in your first year at CHS?
I just want to make my mark. I feel like I really made my mark at the elementary school I had worked at previously.  I want to be an influence by being there for my students, even if it doesn't have to do with art. Just having relationships with them where they feel like they have a safe place in an art studio and being a good overall teacher that they [would want] to come to if they need advice. 
How have your past experiences influenced your teaching style?
I have students that love the atmosphere when they come into my art room – they say I have elementary vibes. The experience I had in Fort Worth ISD with elementary students was very different so coming in, I had a different perspective. While teaching elementary, I had to be a lot more strict. Now, my students are pretty independent so I can give them a lot more freedom compared to my past students. 
How do you think your teaching style benefits your learners?
It benefits my learners because I'm really open to letting them express their own style. I don't want to hinder them in any way, so if they have an idea, I want them to pitch it to me and be able to go with it because they are going to like art a lot more if it's something they enjoy. 
What are your personal interests and hobbies outside of art?
Outside of art I like yoga. I'm also a plant mom. I'm obsessed with plants – I've got plants in my classroom, I've got plants at home. I like succulents and how you can make little babies with the succulent leaves. Other than that, just spending time with my family along with traveling. 
Follow @aliyafza and @CHSCampusNews on Twitter.
About the Contributor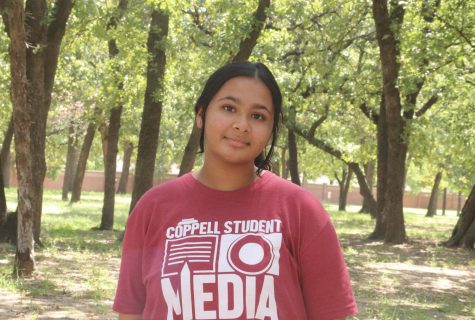 Aliya Zakir, Social Media Manager
Aliya is a junior and this year's Social Media Manager of The Sidekick. In her free time, she enjoys traveling and spending time outdoors. You can contact...