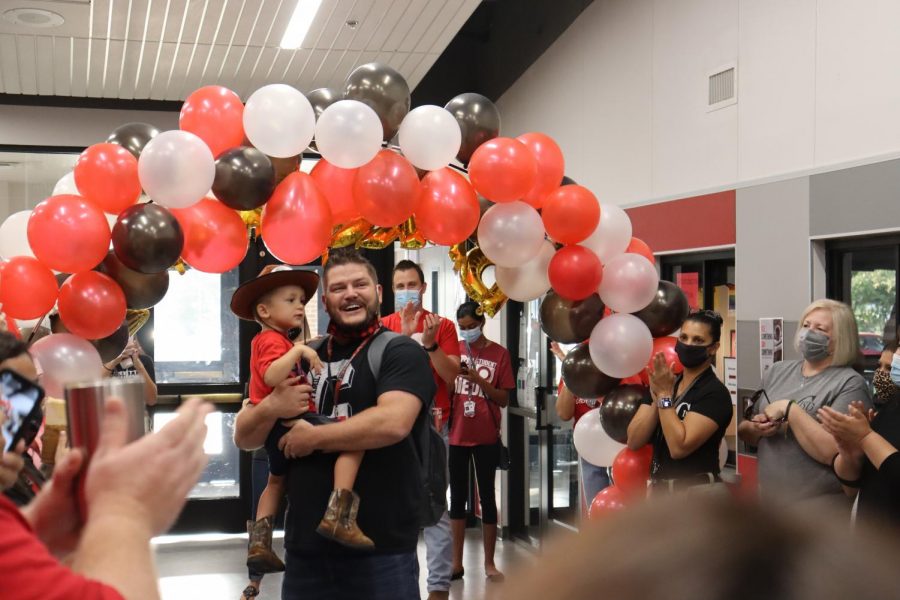 Sreehitha Moravaneni
Arriving at CHS9 at 7:30 a.m., it would've been shocking to see so many people, especially students, entering the building over an hour before school starts. However, knowing the celebration that was planned inside, it was anticipation that filled the air.
Entering the building, there was a balloon arch in school colors and the words 'Dr. Koontz' spelled out in gold. Filling the hallways were the Lariettes, cheerleaders and Coppell Band, ready to greet the special guest, Principal Dr. Cody Koontz.
On Thursday, Koontz earned his doctorate in education and educational Leadership, the reason for this early morning surprise, planned by CHS9 assistant principal Jessica Lynch. Every morning, he drops off his daughters at school around 7:30 and arrives at CHS9 at approximately 8. The plan was to have everyone lined up and ready before then. Not only were CHS9 staff and students there, but also other individuals involved in the district such as Superintendent Dr. Brad Hunt there to celebrate. But most importantly, his wife, Lindsey, and son, Cade, were waiting for him at the balloon arch waiting for his arrival.
However, by 8:10, the band had played around three times, each time announcing the arrival of a late comer or someone who had been hanging around outside the building instead of Koontz. The special guest himself had been running late.
At 8:13, Koontz arrives, and surprise fills his face as he enters the building, the band playing and people cheering. He walks down the line, smiling and shaking hands with the teachers. After the band quiets down, he gets a microphone. Under the arch, while carrying his son, he begins a thank you speech, praising the staff and students for being the best and thanking them for the surprise. Nearly speechless, the speech doesn't last long. The happy tears last longer.
Finally, the crowd disperses and after a few pictures under the arch, everyone gets back to work for the school day.
Follow Iniya (@iniya_v) and @CHSCampusNews on Twitter.