A pickle juice savior
Tennis pulls through with win against Jesuit, Ursuline
When Coppell senior Vinay Patel went down after a precarious slide during his singles match, the immediate consensus amongst the watching Coppell tennis team on his diagnosis was another case of the cramping plaguing the Cowboys. 
As Coppell coach Rich Foster ran to Patel's bag for a bottle of something, the group's understanding of the situation was a little slower, Foster pulling out a jar with a nearly greenish hue. The team, all gathered to watch the first line boys singles match, wondered what Foster could be bringing out to someone cramping mid-tiebreaker.
A Gatorade?
Something to tape him up?
A banana?
"In the breaker, I cramped pretty bad in the beginning and then – pickle juice," Patel said. "That was actually the savior of the match."
After the pickle juice at 6-6, famed for reducing cramps during athletic exercise, Patel's opponent, Dallas Jesuit sophomore Alex Park also cramped at 7-7. After a long break, Patel lost the first point back then served twice to win 10-8, 1-1. 
"I didn't think I was going to be able to finish," Patel said. "But everyone was watching me and cheering so I was like 'I have to go on until I cramp too bad or pass out or something'. I was down 0-2, 0-40 in the second set and I was like, 'oh my god.'I somehow win that game, I just play out of my mind for four points and I'm like you know what, we got this. I cramped throughout the second set but won six games in a row so I thought 'I can't withdraw now, there's actually a chance I win.'"
Coppell followed in his footsteps soon after, with CHS boys beating Dallas Jesuit and CHS girls beating Ursuline Academy with a combined score of 15-4 on Friday at the CHS Tennis Center for its second win before the beginning of District 6-6A play.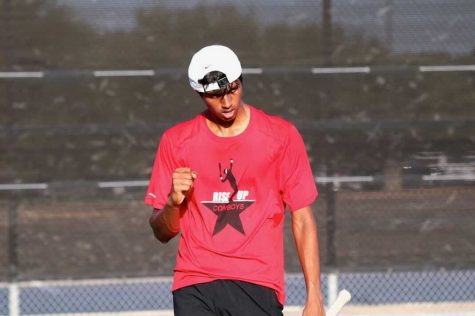 "It was a tough fight but I was expecting the score to be closer," Foster said. "That's not a knock on them –  I just think we stepped up. This was the best match we've played this year. Since we're stronger on the boys side than we are on the girls side, we rely heavily on mixed and our boys holding their own and hoping we can provide a few matches on the girls side. Tonight, we provided a bunch of matches on the girls side."
Despite the cramping, Coppell played off several close matches, playing five tiebreakers. Improving, Coppell won four of the five breakers played today, as compared to the previous eight of 25 from other tournaments. 
"This was our first match that started after school and that affected a lot of people," Coppell senior Nandini Thallapareddy said. "I was very exhausted and it was like I wanted to go to sleep right after. Next time, we've got to get more used to going to school then playing, we haven't done that in a year and a half."
On Tuesday, Coppell hosts Plano at the CHS Tennis Center at 4 p.m.
"Even though we've taken a few losses, the kids are stronger than they were at the beginning of season, they're healthier than they were at the beginning of season and I feel really good about us heading into district," Foster said.
Follow Anjali (@anjalikrishna_) and @SidekickSports on Twitter.