Pacheco returning to bench to lead Cowgirls volleyball
Northwest ISD assistant athletic director Libby Pacheco, formerly the volleyball coach at Byron Nelson, has been named the new Coppell volleyball coach.
Pacheco replaces Julie Price, who guided the Cowgirls to two state championships.
As Coppell athletic director Kit Pehl sought a replacement for Price, he began to look for options of either a girls soccer head coach, which will be announced later this week,  or volleyball head coach to take over the girls athletic coordinator position.
"It was a little complicated because not only did we have a head volleyball position open, but we also had a girls head soccer position open," Pehl said. "As an athletic director I have three different coach websites that I can post jobs on as well as on the CISD website. It's an attractive position so we didn't have a shortage of applicants."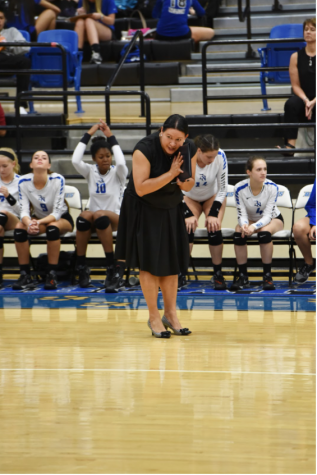 Of these applicants was Libby Pacheco, former assistant athletic director for Northwest ISD. Hearing of the job opening through her professional relationship with Pehl, Pacheco began to consider taking up the position.
"[Coaching] wasn't something that I went into the hiring season thinking that I would want to do," Pacheco said. "But as soon as Pehl and I started talking about the position it just made sense and the timing worked out. I felt called, it's what I want to do at this time in my life."
Pacheco brings a high level volleyball experience with being a head coach at Byron Nelson, Van Alstyne and Colleyville Heritage., as well as administrative experience as the assistant athletic director of Northwest ISD for the past three years.
"Pacheco didn't just bring championship volleyball to the table, she also brought administrative experience," Pehl said. "As our girls coordinator she will be doing both simultaneously, through coaching and her administrative role. It was the best of both worlds for us."
Having opened Byron Nelson, in 2009 she developed the program from the ground up, leaving in 2018 with the team as Class 6A quarterfinalists and setting it up to become Class 6A state champions the following year. As an administrator at NISD, Pacheco overlooked state titles for baseball in 2018 and volleyball in 2019.
With fall sports quickly approaching, Pacheco was appointed Coppell's new head volleyball coach and girls athletic coordinator just in time for summer training. Over the summer months, athletes will partake in Performance Course and Skills Training before tryouts in early August.
"Pacheco has high level volleyball experience and I hope she can bring in that championship level," Pehl said. "We have a strong volleyball program and it's going to be a talented group of kids this year, maintaining that really high level and not skipping a beat from an athletic standpoint is my hope."
Pacheco is looking forward to her new role, emphasizing the importance of maintaining Coppell's tradition of excellence through athletics as well as community support.
"I hope to continue the tradition of winning, making it to the playoffs and making an impact on the entire district." Pacheco said. "I'm looking forward to bringing those experiences and the things that I've learned from other coaches to Coppell. I also hope to keep the community's support. It's always a tough game [playing Coppell at home] because of the support from the student body, parents and the excitement surrounding its athletic programs."
Follow Torie (@torielpeck) and @SidekickSports on Twitter.