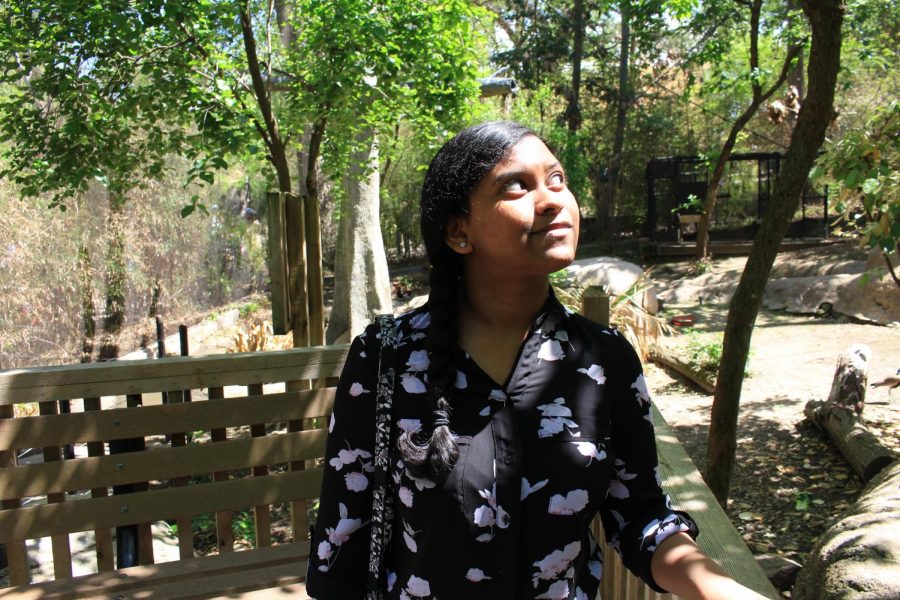 Pranati Kandi
A bright orange sign with the words 'Dallas Zoo' stamped in white appeared on the side of the highway as New Tech High @ Coppell sophomore Vibha Radhakrishnan and her parents were en route to the Perot Museum of Nature and Science one weekend in 2016. 
With one turn, Radhakrishnan experienced the Dallas Zoo for the first time, a place where she would start spending hours each weekend interacting with animals and leading guests on their exploration of the natural world. 
Her immersion in biology, specifically zoology, began early and transformed into a desire to help the birds and pets she read about in library books. When she was 7, Radhakrishnan researched the minutiae of caring for a dog before receiving her dachshund chihuahua named Nikki.
"I researched how often they need to go out, how often they should be fed and how much exercise they need," Radhakrishnan said. "I'm inspired to go into something that helps animals in the world because that's something I'm super passionate about. It's something I've been drawn to since I was a kid."
Radhakrishnan's work at the Dallas Zoo began in summer 2017 as a junior zookeeper. The position involved cleaning the Children's Zoo and interacting with guests in that area. A year later, she became a member of the newly-developed Zoo Crew program, which includes three phases with increasing levels of involvement in the zoo. Radhakrishnan is currently in phase 2, allowing her to venture outside of the Children's Zoo to speak to guests about animals such as hippos, giraffes and elephants while interacting with bunnies, pigs and goats in the barns. 
After the start of the coronavirus pandemic, the Dallas Zoo closed its Zoo Crew program to accommodate greater distancing and eliminate paper maps in an effort to minimize contact. Radhakrishnan and fellow volunteer Audrey Simmons, a homeschooled freshman, have worked together for a year and a half and started interacting with visitors and animals again at the start of this year.
"It takes a very specific skill set to work with people before you throw in COVID-19, but it's much harder now as far as making a connection and being able to relate things to them and have a memorable conversation," Simmons said. "[Radhakrishnan] is one of the coolest people to work with. She is very fun to be around, but she's also very serious and she also knows her stuff. She's great at talking to people and full of information."
On Feb. 23, Radhakrishnan shared details about her experiences as a Dallas Zoo volunteer across the zoo's social media accounts as part of their series, #TakeoverThursday. Interacting with commenters and speaking about her volunteering efforts allowed her to promote the Zoo Crew program. 
I'm so excited and thankful to be able to share my wonderful experience with Zoo Crew! https://t.co/J3S1bQvjWD
— Vibha Radhakrishnan (@VibhaR_nthc) February 23, 2021
The extensive volunteering work serves Radhakrishnan well at [email protected]  because of the school's focus on volunteering in the community. According to [email protected] ninth grade English facilitator Janelle Bence, Radhakrishnan prioritizes being a Zoo Crew volunteer in a way that reflects maturity and her genuine interest.
"She has the heart of service and that's something really important at our school," Bence said. "She's responsible and knows how to set priorities. When you have something you're passionate about and you enjoy, you can have the biggest course load, but you're going to find a way to make everything fit so that you can continue. It's a symbiotic relationship because it also fuels you."
Radhakrishnan also implements her advocacy for zoos and environmental education in components of [email protected]'s project-based learning model. Last semester in her English II class, she wrote an editorial about the ethics of zoos for The New York Times' publishing campaign contest. 
"Zoos can have a lot of stigma because of events that have happened, like in 2016 with the unfortunate death of a gorilla," Radhakrishnan said. "There was a lot of talk about how zoos may not be a positive thing and possibly shouldn't exist, but I did my own research and found that zoos have done so much for the world, like with the revival of bald eagles that were endangered in the past." 
Through the project, she was able to articulate the idea that zoos are a positive force in society for not only rehabilitation, but awareness.
"Tigers aren't [animals] that only live in Asia and Africa which we can't see – we can just go to the zoo and see that they are a real thing," Radhakrishnan said. "The fact that they are in trouble and need help from humans is especially highlighted when you see them in person. It really brings that sense of empathy because a lot more people will start working towards helping them and recovering those populations."
The Dallas Zoo is a place for Radhakrishnan to foster connections with guests, animals and other volunteers and expand her knowledge of zoology. But, she boils down her fondness for it in only a few words: "It's where I love to be."
Follow Shivi (@_shivisharma_) and @CHSCampusNews on Twitter.