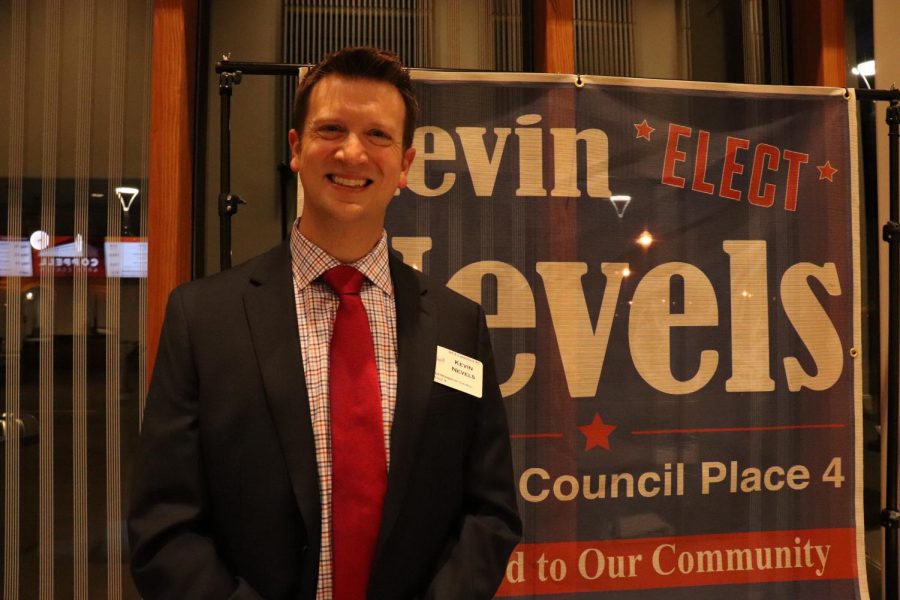 Kevin Nevels (Place 4)
What inspired you to run for Place 4 on the City Council?
When we first moved to Coppell in 1997 I fell in love with this community. After graduating from Coppell High School in 2001 and attending college my wife and I opened our small business here in 2010. We began volunteering in the community, raising money for local PTO's, and serving where we could. Through the Coppell Chamber of Commerce I was given an opportunity to serve as Chairman of the Board in 2020. As you can imagine, the pandemic took its toll on local small businesses. That inspired me to run for council so I could continue recovery efforts on the city council. I have served Coppell for nearly a decade and the Coppell City Council is the next step in my journey to continue to serve the citizens of Coppell. 
What experiences prepared you for the role of Place 4?
I believe my years of service and volunteerism have prepared me to serve on the Council in Place 4. I first got involved with the Coppell Camber to support our business but quickly learned that the Chamber was a bridge to allow me to serve in many different areas. I also believe that my completion of Leadership Coppell in 2019 has prepared me to serve as I have a much better understanding of how the City of Coppell is structured and how all the departments work together to deliver services to Coppell. Lastly, I've served the families of Coppell through my small business, Coppell Taekwondo Academy for nearly 11 years. By having a business that has worked with thousands of Coppell families, I've built solid relationships and learned what people want and need from their city. I also had the honor of serving on the Coppell Vision 2040 Executive Committee. This allowed me to be at the forefront of the community driven visioning process. It allowed me to learn where the citizens of Coppell want our community to be in the year 2040. I believe all of these experience, coupled with the list of service, achievements, and awards shown below, have prepared me to serve on the Council in Place 4
Coppell Vision 2040 Executive Committee member
Living Well in Coppell Committee Member – Chamber Liaison
Leadership Coppell Graduate 2019
Coppell Chamber of Commerce Board Member 2014 – Present
Chairman of the Board Coppell Chamber of Commerce 2020
Coppell Chamber of Commerce – Working Well in Coppell Committee Chairman 2015-2019
Coppell ISD iLead Graduate 
Coppell ISD Naming Committee 2017Coppell Resident since 2015 (moved to Coppell with parents in 1997)
Graduate of Coppell High School – Class of 2001 (1999 4A State Marching Band Champion & 2001 KCBY Broadcast Journalism Student of the Year)
Coppell Business Owner since May of 2010 – (Coppell Taekwondo Academy – Worked with Thousands of Kids and Families in Coppell and the Surrounding Area) 
Coppell ISD Parent since 2015
Hosted Dozens of Women's Self-Defense and Child Safety Seminars since 2010
2017-2019 Volunteer with the CHS Incubator Program –  Teaching Marketing classes and Final Presentation Advisor
2018 – Coppell ISD Business Partner of the Year
2019 Coppell Youth Baseball Association – Assistant Coach (Spring & Fall)
2019 Coppell Chamber Small Business of the Year Award Winner 
2021 Coppell Chamber Volunteer of the Year Award Winner
What are the biggest issues currently facing Coppell?
Due to the Texas Comptroller's rule to change how sales tax is sourced, Coppell is set to lose millions of dollars in sales tax revenue. The rule is set to begin in October of 2021. The difficult thing about the situation is that we don't know 100% how much sales tax revenue will drop so it's difficult to plan. This will negatively affect all areas of the city and will directly impact a large revenue stream. 

Due to COVID, Coppell business has taken a big hit. Even before Covid, Coppell small businesses have a reputation for struggling with many closing due to choices in other cities. Coppell should be a haven for business and I want to help make it better/easier for business to thrive in town.

Housing options for our seniors is a big concern for me. During the 2040 visioning process, the population study that was done showed that the families that moved here in the 90's during the big population boom are heading into the latter stages of their life. They want to stay in Coppell but are getting priced out due to rising property values and availability of appropriate housing stock. 
What are your plans to address these concerns?
Right now, the best solution is to keep a close eye on the budgets of each city department until we can determine what the revenue drop will be and then we can create long term plans. I am not in favor of any new taxes to make up for the revenue shortfall so we will need to work diligently with each department to make sure we are able to still deliver a high level of services with a smaller budget.

I want to make it easier to open a business here in Coppell. Due to our high property values, real estate in Coppell is already expensive. If you couple that with the typical red tape of opening a business Coppell can become unattractive to potential business owners. We need to cut through the red tape and make it much easier to get a business open. I want us to streamline our application processes and our Planning and Zoning approval process. I'd also like to see improvements and better communication in our inspections department to help get new businesses open faster. Lastly, I'd like to revisit our sign ordinances to make sure we are giving business the visibility it needs while keeping Coppell the beautiful city that we have come to love. 

Currently Coppell offers a $75,000 valuation credit to help bring down the property taxes that our seniors pay. I would be in favor of increasing that valuation credit to help reduce the tax burned for that senior group. Secondly, I'd love to see what kind of redevelopment we could do to help provide lower cost housing stock for our senior group. This is more of a challenge as the city is basically "Built Out" but I'd like to explore this with my fellow council members if elected. 
How would you describe Coppell to a stranger?
I would describe it as a beautiful suburban oasis in the middle of a busy metroplex. Even though we have just over 40,000 people who live here in town, I still see people I know when I walk into the local grocery store. It still feels like it did when we moved here in 1997. Sure, things have changed and they are still changing but the fact that I live walking distance from a beautiful park and trail system still makes me happy to live here. My kids attend a beautiful school and they can ride their bikes to and from school (this is a big deal for me since I always lived miles away from my elementary schools and I always rode the bus.) I would also tell this stranger that the reason I'm running for Coppell City Council Place 4 is to preserve our community for the next generation while we also improve the business community here in town.