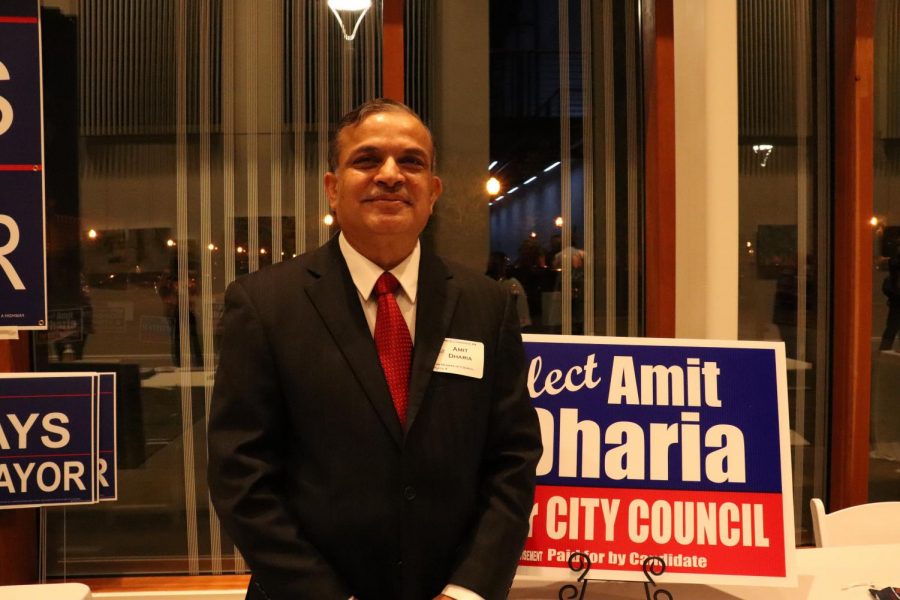 Amit Dharia (Place 4)
What inspired you to run for Place 4 on the Coppell City Council?
I am a first-generation immigrant who has strived and thrived.  I have realized my American dream, and I am ready to give back.  
We moved to Coppell from MA in 1997.  I am a Coppell resident for 24 years, and we have called Coppell our home away from home.  I have raised two fine children who attended and benefited from CISD.  I want to see Coppell maintains its trajectory and continue to be a desirable and vibrant community for all age and ethnic groups.
However, Coppell is aging. Coppell is changing. Coppell, like many small towns across the country, is facing financial challenges.  High taxes, escalating home prices have made Coppell less affordable for the young, single, and seniors on a fixed income.  
I am running for Financially Stronger Coppell, Environmentally Greener, and Socially Vibrant community. 
What experiences prepared you for the role of Place 4 on the Coppell City Council?
First and foremost, I am a first-generation immigrant and know what it takes to succeed amidst all adversity.  My life experiences and values will guide me to help make Coppell financially more sound and socially vibrant.
During my more than three-decade-long career as an R & D engineer, inventor, educator, and small business owner, I have worked with exceptionally large as well as small start-ups, with CEOs and floor level operators.  In my work life, I identify problems, define the scope, conduct root-cause analysis, find workable and innovative solutions within the time and resource limit.  The skills I have mastered, i.e., fact-finding, data-driven decision-making, resourcefulness, eye for detail, quick learning capability, and working with people of all backgrounds, will help me be an effective councilman. 
Finally, I am a family man, married for 34 years and a father of two fine children who attended CISD and are doing well in their respective careers.  
What are the most significant issues currently facing Coppell?
Coppell is a fine community with a highly educated and active citizenry. People like to move to Coppell for its small size, exemplary schools, and location. Coppell has passed through a rapid growth stage, and now it is entering the maturing phase. Population and development of Coppell are leveling off, and with that, the revenue sources. With growth comes the growing pains. 
In the coming years, we will spend more on maintenance and repair than on new development. 
The biggest problem is slowing revenue growth and growing expenditures. Slowing revenue and increasing cost lead to more borrowing. The high property taxes caused by escalating home prices are making owning a home in Coppell less affordable.
Limited land, high home prices, and lack of multi-family units make housing less affordable in Coppell. People are moving out, leaving homes as rental property.  
The third issue is diversity inclusiveness. Coppell is much more diverse than it was ten years ago. We need to promote and foster inclusiveness. 
The fourth issue is safety. Coppell is relatively a safe place with a low crime rate, but lately, incidences are increasing.  
What are your plans to address these concerns?
The first and foremost is to have a financial discipline and prioritize new projects as NEED vs. WANTs. I will look where our tax dollars are spent effectively and where it is not.  I will consider all City functions and restrict spending where it does not impact the lives of a more significant number of citizens.  We will use smarter technologies to reduce short- and long-term costs.  
Using Coppell 2030 and 2040 vision as a guideline, we will focus on projects that have a long-term impact on the community's economic viability and wellbeing of the community.
Second, I will help small businesses and incentivize high-tech companies to employ Coppell citizens to come to Coppell. High leasing rates and fees make running a service business in Coppell less profitable. High home prices have a direct impact on the leasing rates. We need to promote local shop incentives. 
To increase home affordability, I will work with other councilors for the higher homestead exemption, lower property tax rates, and increase in the multi-dwelling units.   
To promote a Greener economy, I plan to work towards community-supported recycling of waste, conserving water, and collective negotiations for affordable solar energy. 
To promote social inclusiveness, I propose a city-wide special day to "Know your neighbor"!  Knowing other cultures will help reduce fear, hate, and suffering.  
Coppell has many seniors and older residents who have lived in the town for several decades. I will see how the City can help them in terms of local transportations and emergency services.  
How would you describe Coppell to a stranger?
In short, Coppell is a small but beautiful place to live! 
With only a 14 sq. mile area, Coppell is a small but very vibrant community!  Many people initially move to Coppell because of its exemplary school system and relatively safer place but choose to stay for a lifetime. Coppell is ideally located and well-connected to all nearby DFW metroplex cities via major highways, making daily commute less stressful.   If you are looking for a small-town living to raise a family and a large city experience, make Coppell your home City has an excellent park system and community center for an active lifestyle, a newly built Art center, and several restaurants. The City has a continually active citizenry with many social and volunteer groups to participate in. Coppell also has one of the most diverse populations – making it an inviting place for people of all ethnicities.