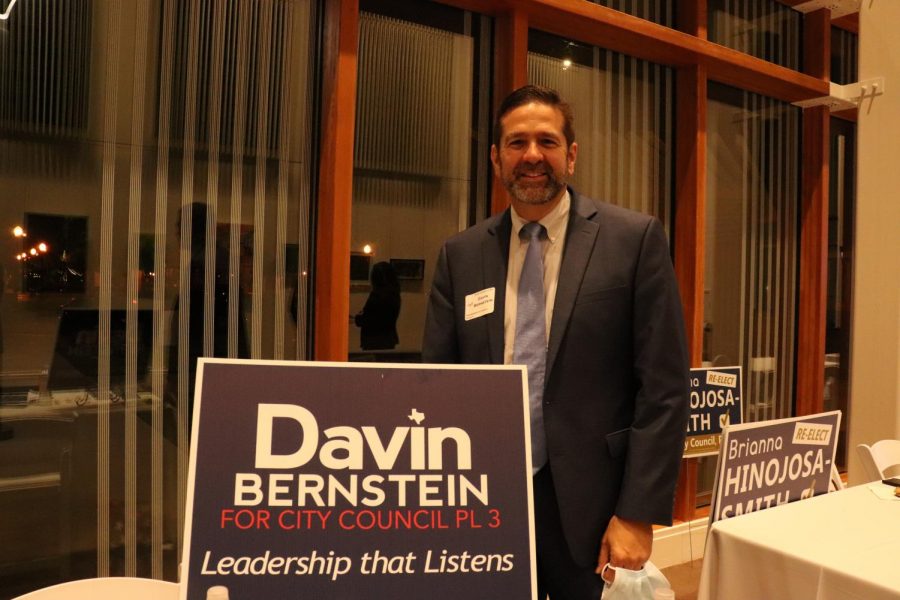 Davin Bernstein (Place 3)
What inspired you to run for Place 3 on the Coppell city council?
This is a critical time for the city of Coppell, and it will be facing new opportunities as we come out of the pandemic.  After the city reduced the budget significantly in response to several unknowns last year, the people elected this year will deal with a variety of challenges about how to manage growth: in the budget as well as the future direction of the city.  We have a new baseline and this next budget will be important to establish the foundations of city spending going forward.  I believe I have the knowledge and experience necessary to lead in these discussions.  Having been in touch with many citizens across the city over the past year, I can best represent the views of a broad cross-section of residents.
People are probably familiar with my signs around the city that say "Leadership that Listens."  I believe strongly in representing ALL residents in discussions, being careful to act in response to a real need, and to ensure critical thinking skills are used when considering major decisions.  My education and experience will help me serve our city well.
What experiences prepared you for the role of Place 3 on the Coppell city council?
I have been involved with the city since I took the Leadership Coppell Course about 10 years ago.  It provided me with a solid understanding of the many facets of city responsibilities.  Since that time, I have watched and participated in various issues being considered by the city, and contributed in a variety of ways
Allies in Community, 2020

Leadership Coppell Class of 2011

Election Judge and Precinct Chair #2807 (east of MacArthur) 2008-2018

President, Coppell Republican Club

Former Chair, Architectural Review Committee for Lakes of Coppell, the largest HOA in Coppell
More recently, I participated in Allies in Community, a program the city puts on that helps citizens understand the valuable diversity already present in our citizens and city servants.  While I knew some people already, I also met many others and had the opportunity to really think about how we can be a stronger community by working together.  Some see problems beyond our city and want to "fix" Coppell – I see a great city that is blessed with a very warm and welcoming group of residents. Allies provided me a unique experience to understand the pulse of our citizens.
My professional career has been one of service (7 years in the Navy, leadership on the board of a food pantry, active Knights of Columbus member) and leading teams to successfully launch new products in technology.  I have also been involved in our community through my Church (St. Ann's Catholic Church, teaching middle schoolers), scouting, and political activities (election judge and precinct chair).  Each of these experiences will help bring insight into issues facing the city.
What are the biggest issues currently facing Coppell?
Loss of revenue from sales tax if the state controller reverses how sales tax is allocated to cities

Offsetting the massive increase in taxes for people's primary residence via the homestead exemption

Revising what the city can do to help Old Town achieve its potential

Developing remaining commercial space in Coppell (particularly as the new DART Rail goes through Coppell) while protecting our quiet neighborhoods
What are your plans to address these concerns?
Good critical thinking!  Challenge assumptions, collect data about options, explain those options to residents and get good, meaningful input.  Always lead for decisive action that puts our city in the best situation possible.  I have long been a part of promoting simple to understand options so that busy residents can review information in ways meaningful to them.
How would you describe Coppell to a stranger?
Coppell is a beautiful oasis – right next to one of the major airports in the world!  We value education, our parks, and creating a community that is welcoming to all.  I love that we can live in a quiet area, but can be on a freeway in 5 minutes and pretty much be anywhere in the metroplex in 20-30 minutes, and anywhere in the country in 2-3 hours.  We ARE in the best place to live!