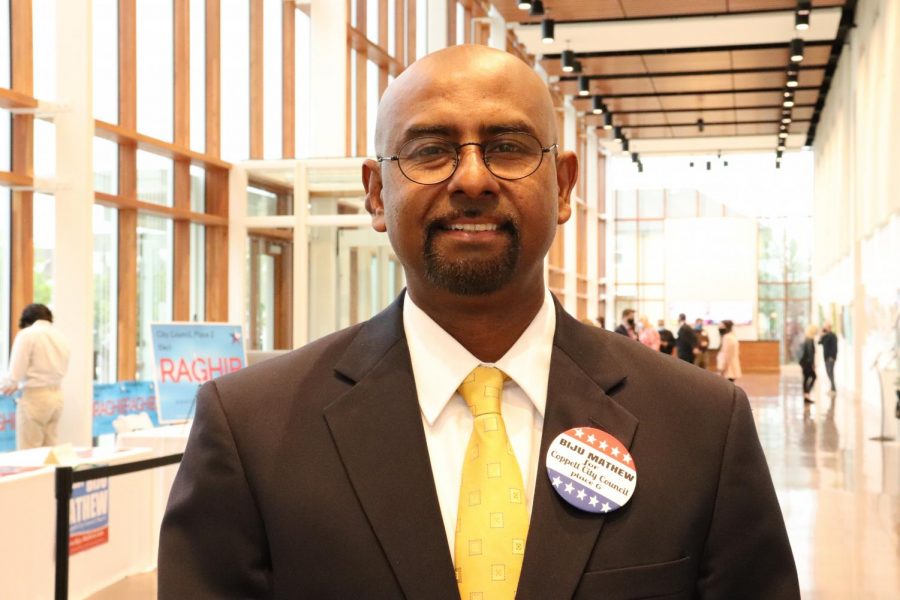 Biju Mathew (Place 6)
What inspired you to run for Place 6 on the Coppell City Council?
I grew up in a family that believes in public service.  Service to others is a noble undertaking. What makes me a unique candidate is that of the 15 years I've lived in Coppell, I've devoted 11 years (73% of my time) to actively serving the City of Coppell in different roles.  To serve the City, I devoted time to learning about our City government and our citizens' needs. To do this, I attended and graduated from City training programs: Leadership Coppell, Citizens Police Academy of Coppell.
I prioritize my time to serve even with a busy life with work and family. This clearly shows my commitment, dedication and passion to serve Coppell residents in a volunteer capacity.  I appreciate people who give their time back to the community, expecting nothing in return.
Before running for elected office, I served on two City boards. 
Additionally, my professional background as an IT professional complements the other Council members' backgrounds; various points of views are required in making Council decisions that impact our Community.
What experiences prepared you for the role of Place 6 on the Coppell City Council?
City Council Member, 2018-Present

City liaison to Metrocrest Social Service

City liaison to Coppell ISD

Member of the Citizens Police Academy of Coppell alumni group

Coppell Greens Homeowners Association, school committee member and National Night Out participant

Coppell Rotary Club member

Vice President, Coppell Recreation Development Corporation (CRDC)

Member of Coppell Parks and Recreation Board

Graduate of Leadership Coppell; 40 hours of formal training

Graduate of the Citizen's Police Academy of Coppell & Citizens  On Patrol                           

Cottonwood Creek Elementary (Coppell ISD) PTO and Dad's Club member

Coppell Rotary Club member

Facilitator for Coppell Citizens Summit, which gathered input for City's Vision 2040.
What are the biggest issues currently facing Coppell and plans to address these concerns?
Origination vs Destination Sales Tax rule change 3.334.  The Texas Comptroller is changing the way sales tax money will be distributed to cities. Coppell's sales tax revenue of approximately $42 million potentially can be reduced to approximately $26 million if totally applied. This reduction will negatively impact the City's total General, Coppell Recreation Development Corporation (CRDC), infrastructure maintenance (IMF) and Crime Control Prevention budgets.  The result: As a City we have to tighten our belt on all projects using these funds. City staff and Council are working very hard to mitigate the effects of sales tax revenue reductions. Proactively, we put a freeze on filling 30 City positions and put hold on many capital improvement projects. Going forward, we will evaluate each project before we sign-off. 
How would you describe Coppell to a stranger?
Coppell is a community of diversity.  That is our strength. Exceptional contributions come from our residents of all backgrounds, irrespective of which parts of the country they were born. 
As a Council Member, I voted to support the program "Allies in Community."  This program is focused on:  "building relationships through common ground, fostering a deep sense of belonging, and enhancing resident's active engagement." Each Allie cohort brings together 30-40 residents and City employees to attend fun, hands-on-workups. 
We are not the same Coppell that we were 20+ years ago. Traffic is on the rise. Technology is necessary. Home values are increasing. And more residents are moving to Coppell because of the exceptional community parks, recreation, location and schools. To manage growth, challenges and change, the City needs citizens who embrace service and who have served Coppell in a number of roles to use their skills to create the Family Community for a Lifetime.