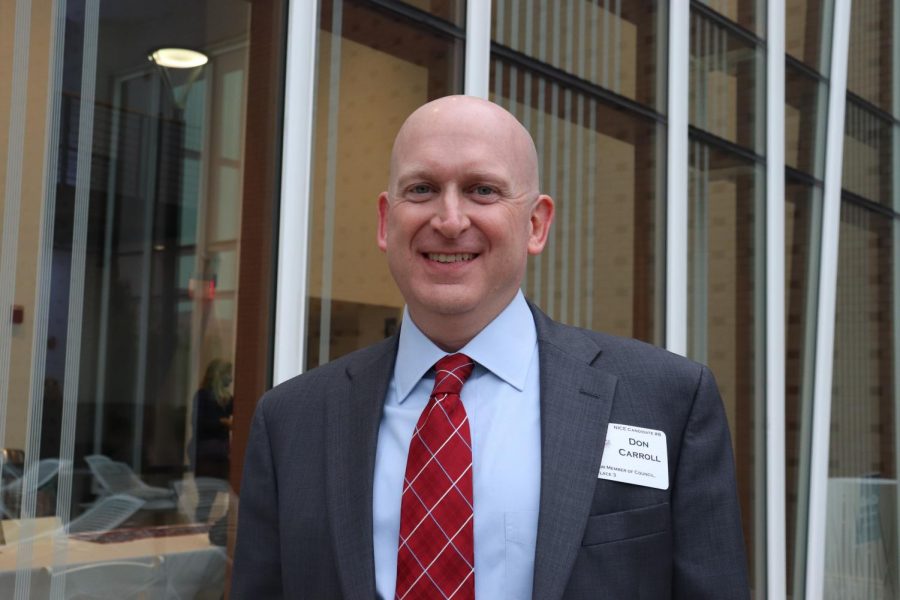 Angelina Liu
What inspired you to run for Place 3 on the Coppell City Council?
What has inspired me to run for City Council is a desire to serve the community that we have chosen to call home.  We have three daughters currently in CISD that need to see both of their parents serving in our communities, whether that be our city, schools or church.
Beyond this inspiration, however, is my previous experience with the City.  I graduated from Leadership Coppell in 2009 and served on the Economic Development Committee for 10 years.  I currently serve as Chair of the Finance Committee at our church.  My professional expertise as a commercial banker over the last 25 years has prepared me to use these skills for the benefit of the city as we navigate our future challenges.
We want Coppell to continue to be a great place to live, work and play.  We want our three daughters to love this community and choose to come back here someday to raise their own families.

What experiences prepared you for the role of Place 3 on the Coppell city council?
My long tenured experience working with the city on the Economic Development Committee has prepared me to understand not only the recent history of the city but also the challenges that still lie ahead.  Over the 10 years I served on the EDC, I was able to witness how the focus of the city has needed to change as we have matured.  We have gone from rapid growth to more of an environment of learning what we must do to sustain what was built.  Understanding what our business community, both large and small, needs to sustain their presence here is crucial.  To really understand how the city works, where we have come from and where we're heading takes substantial time.  I have spent the last 10+ years learning about Coppell.  This has prepared me to help guide the city into the future.

What are the biggest issues currently facing Coppell?
The biggest issues facing Coppell are (1) sustaining what has been built, (2) facing our changing revenue mix due to changes at the state level, and (3) determining how Coppell recovers from the recent economic downturn.
What are your plans to address these concerns?
The key to sustaining our city is a steady eye on the financial position of the city.  Those that came before us put the city into a strong financial position and have planned for needed improvements and maintenance to our infrastructure.  Because of our growth, strong housing market, and attractive location for businesses we have been able to fund what we have built.  Going forward, however, changes at the state level related to new revenue limits and how the city collects sales tax will put pressure on the city budget.  In response, the city will have to make sure our expense infrastructure is very efficient.  After a period of growth, often expense structures have some excess built in.  City staff has already begun reviewing our expenses and determining how we can be more effective with the tax dollars we receive. 
We have a responsibility to continue to provide premier basic services such as infrastructure and public safety.  After those are funded, we have a number of value-added amenities in this community that are important to our culture.  These additional services will also need to be reviewed to make sure they are sustainable.  Tough decisions may have to be made regarding how these items are funded primarily because of a potential loss of revenue from recent state changes.  More of our services may need to become more self-funded.  All of these items need to be balanced with a reasonable tax burden on our citizens and business partners. 
I intend to work with the rest of council and city staff to leverage my expertise in financial analysis and budget planning to accomplish these feats.  Adjustments to our budget will likely happen over a number of budget cycles in order to limit our citizen's tax burden, protect the city's strong financial position, and ensure our basic services along with value-added amenities are sustainable.

How would you describe Coppell to a stranger?
I had a conversation with someone in Dallas who had recently driven through Coppell.  He said we should be known as the city of parks because he noticed how many we have throughout the city.  I like to describe Coppell as a small town with all the advantages of a small community in the middle of an enormous metroplex with all the advantages of a metro area.  The community we feel here is unique.  I'm proud to be a part of this and raise our daughters in such a close-knit community and I am hoping to continue serving the city to continue making it at least as wonderful for our future generations as it is for us.