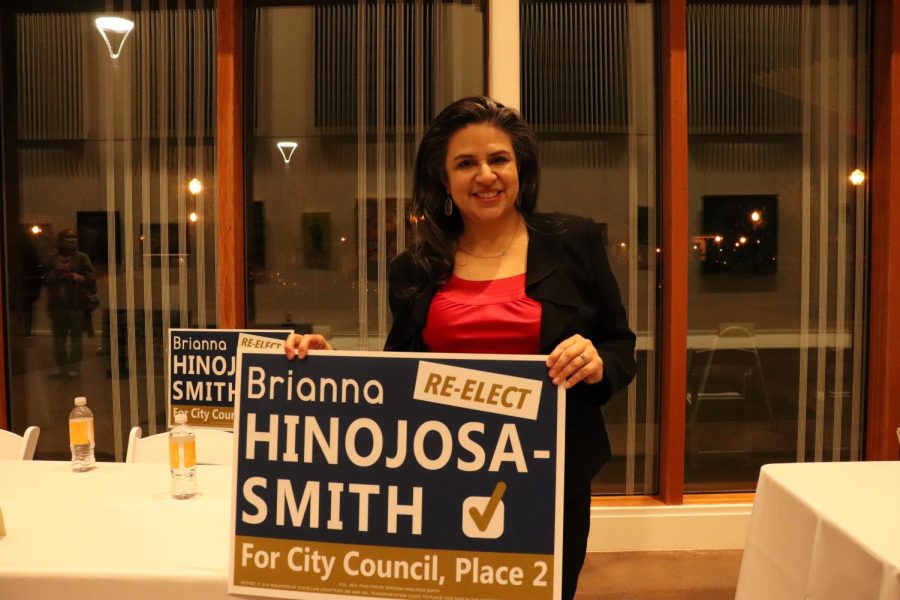 Brianna Hinojosa-Smith (Place 2)
What inspired you to run for Place 2 on the Coppell City Council?
I am running for re-election to continue serving the Citizens of Coppell. We moved to Coppell in 2002 because of the location. We did not have children at the time but knew that one day we wanted to have a family and that Coppell had great schools. I had always told my husband that once we found a place to call home, I wanted to serve my community. It has always been important to me to give back, to help maintain what drew us to our 'home' and to help make it a better place for our family and the citizens at large. I do not serve on City Council for pay or for any recognition. I serve because I am passionate about giving back and continuing to help make Coppell a great place to live, work and play for all.
What experiences prepared you for the role of Place 2?
Shortly after moving her in 2002, I started to get involved in city programs. I graduated from Leadership Coppell, the Citizen's Police Academy (CPAC) and the Citizen's Emergency Response Team (CERT). I also served on as a volunteer judge for Teen Court in the Coppell Municipal Court (having been a part of starting Teen Court in my hometown in South Texas when I was in high school) and served on the Education Foundation that used to be part of the city's boards and Commissions.
In 2005, I was first elected to the Coppell City Council, Place 3. I was re-elected in 2008 an 2011. I stepped down in 2012 to run for US Congress (TX-6). Losing this race was a blessing in disguise as I was shortly thereafter diagnosed with triple negative breast cancer. After 3 years of treatment and multiple surgeries, I beat that battle and decided that I wanted to continue in public service. As a result, I was elected to Place 2 in 2015, re-elected in 2018 and am now up for re-election.
I have a BS in Electrical Engineering, a J.D. and an MBA. I serve as the Director of Legal for Digital & Technology at Yum! Brands. I have served as a board member of the Coppell YMCA and was the Board Chair for Las Colinas Medical Center for several years. I also have 2 children in the Coppell School District – 1 at New Tech and 1 at CMS, and have served on multiple CISD committees.
What are the biggest issues currently facing Coppell? What are your plans to address these concerns?
I think every city has issues and challenges. Some are 'bigger' than others; but at the end of the day, all issues are paramount as we consider how they will or may affect our citizens. If I had to pick 3 issues that are currently at the forefront for city staff and elected officials, I would say:
Helping our business community with the hardships they have endured (and continue to

endure) due to the pandemic is key. In the last year, we have lost many businesses; and many that are still in business are struggling. We need to work closely with our Chamber of Commerce, for example, to restore our economy by attracting new businesses to our community while also making sure we are helping our existing businesses survive. Revitalization of our business 'hot spots' is also a priority.

The Texas Legislature's decision to change the sales tax stream from being origin-based

to destination-based (Rule 3.334) is another challenge for Coppell. This will have a huge impact on the revenue we currently collect and we stand to lose millions of dollars. As a result, we will need to make some changes to address this shift in revenue (and have already started this process).

Homestead Exemption: This continues to be a hot topic and a challenge with increased

property values that are not in the control of the City. However, there may be opportunities to consider the exemptions for our Senior and Disabled citizens. It is important to note that for Senior and Disabled citizens, since fiscal year 17/18, the number of persons qualifying and taking the exemption has increased by 468.  The total taking the exemption is now 2,368 or approximately 18% of the City's housing stock. In 2017/18 FY it was 15%.
How would you describe Coppell to a stranger?
Coppell is truly a great place to live, work and play. It is a city that embraces diversity with approximately 41,000 people, yet has a small town feel. There are so many things I love about Coppell. I love that it is centrally located in the DFW Metroplex; we are close to DFW airport, large cities like Dallas Fort Worth, and other neighboring cities. I love our business community (small and large) – many local owned businesses to meet a variety of needs for our citizens. I love our schools! We have some of the top rated public schools in Texas and I am thankful that my children are receiving a phenomenal education. I love that our elected officials (school and city) care about our community at large and spend numerous hours volunteering to continue making this a great place to live. And I love that Coppell is truly a Family Community for a Lifetime and I get to call this home.