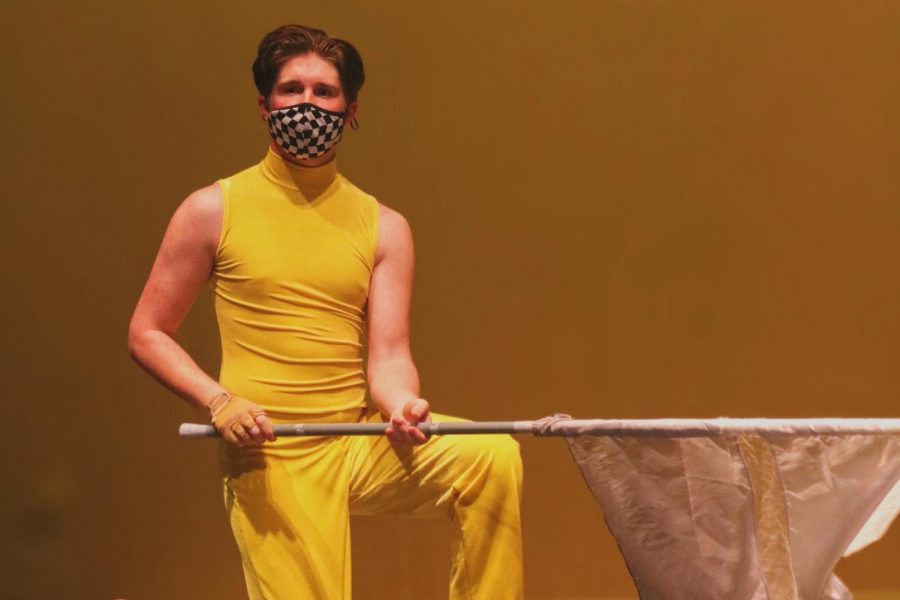 Neveah Jones
The rifle rotates five times before landing back in New Tech High @ Coppell senior Parker Crane's hands – a feat only two people perform in the yellow color guard's show. 
For someone who has only been in the program since the beginning of this semester, many consider this move impressive. 
"There's so many components that all have to happen within the split second, in order to make it successful," Coppell color guard director Matthew Rummel said. "When you see anybody who's throwing like four or five, six or seven rotations, they've really spent a lot of time figuring out how to get that coordination." 
Crane, who made the uncommon decision to join color guard in the second semester of senior year, has friends in color guard who also attend New Tech. After talking extensively with his friends about what the program would include and learning some moves from them, he made the decision to join in the spring semester, becoming the only male member. In addition to the few things he had already learned, he had practiced intensely on his own in order to compensate for the training he missed in the first half of the year. 
"Being in guard now makes me wish I was there since freshman year," Crane said. "It just feels right. I go out of my way to practice every day, I go out of my way to push myself more than I usually do, and I'm always trying new things. I've always been an adrenaline junkie, so being able to just go into that having little to no idea what's going on was just absolutely amazing."
Having played the trumpet for eight years, including four years in Coppell marching band, there were some aspects that came naturally to Crane, such as the physicality and sense of rhythm.
"Marching band was a lot of formations and stability core-wise, and when I came to guard, a lot of that core and stability came into play," Crane said. "I would say the only difficult part [in] trying to transition is it's a lot of dance and expressing your body. That took a little getting used to just because I'm not really a dancer, and that took a lot of muscle training to control that into what it is now." 
Though certain aspects of his success can be attributed to his athleticism and experience in guard, according to Rummel, there is more than pure skill to being successful in color guard.
"He learned really quickly, mostly because he wanted to," Rummel said. "The thing about color guard that I always expressed to the performers, is you get out of this what you put into it and that this isn't just solely based on being naturally talented. You're going to end up where you want to end up based on the amount of work that you put into it, and Parker really put in a lot of work for this to be able to get to this point. His learning curve was going to be steep, but he reversed it pretty easily because he had the willpower to do it."
Now, with only a few months of experience on the actual team, Crane has found his place in the dynamic of the team. 
"He is very much in the mindset of 'I can't do it now, I will keep working at it until I do get it,'' New Tech senior captain Abigail Turner said. "He's been able to improve so quickly because of his mindset. He's only started color guard officially as of this semester, and he's easily one of the better people in the guard."
Turner serves as a captain, alongside Coppell High School senior Hannah George and New Tech seniors Emma Gandy and Daniela Salas. While an emergence in a new program may seem intimidating to some, it was not as much for Crane; Turner, Gandy and Salas are all close friends of his, which eased the transition even more. 
Still, the experience did not come without some degree of difficulty. 
"The first day we started learning the flag feature was definitely a challenge for me because it was really just a lot of us just throwing," Crane said. "[The tech] just started throwing all these flag tosses at us, and [with] the pandemic and all, they haven't been able to schedule a time for all the new people to learn certain tosses and have an idea of how it feels or how it goes. He was like, 'Alright you're gonna do this and this and this and this, alright let's go do it again, let's do it again and do it again.' After a while, it's like, 'Oh my gosh, what's going on?' It was very overwhelming, and it took a long time to get used to it. I was hyperventilating at the end of it; I looked at my friend like, 'Is this what it's normally like?' It was a lot to take in that one day."
The yellow group (a subdivision of the Coppell color guard), which Crane is a part of, did not advance in competition. The group has one more filming session before the end of its season on Saturday in the CHS auditorium, and while Crane has only been officially part of the program for just over three months, he finds the experience one of the best he has had.
"I love you, band directors, but color guard has been just absolutely revolutionary for me," Crane said. "I've always been in band just because it was another family for me, and it was a way for me to express myself artistically, be able to play the trumpet and excel in that, but with color guard, I'm more of a physical and active person. Being able to express that with my whole body and use my muscles to develop is really nice to express myself that way, having that connection with all my closest friends and now the color guard director and just making new friends every day."
Follow Sally (@SParampottil) and @CHSCampusNews on Twitter.