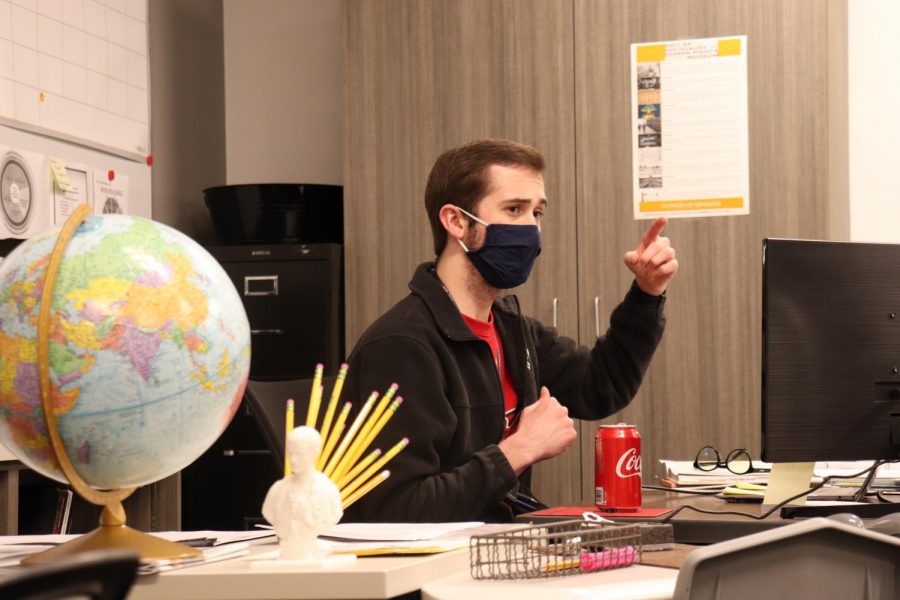 Samantha Freeman
Coppell High School history teacher Connor Blake has taught in Coppell for three years since graduating from the University of North Texas. Officially beginning his career as a teacher here in Coppell, he hopes to teach his students that history is happening right before their eyes.
What inspired you to be a teacher?
For me, it was a pretty straightforward life path so far at least. [In] eighth grade U.S. history, I had a phenomenal teacher that inspired me to be a teacher. His name was Mr. Callahan, and he was personable; he was knowledgeable; he was just the guy that you wanted to be your teacher. I had always liked history, but to see the way that you could teach it and to make it relevant to the life you're living was something that set me down that route to eventually become a teacher. 
What is your favorite part of teaching history?
It is to show the progression, even though it might take a year to show where we came from, and it's not just where we came from, but it's to shine a light on parts of history that doesn't get taught for whatever reason, whether it's cultural reasons, political reasons, whatever it is. It is trying to produce the most authentic and the most truthful version of history that we know, cutting through all of the biases and trying to get to the real root of the issues that we face because all the things that we face today didn't just occur, they have been leading up to this moment through a variety of reasons. 
What is a lesson you have learned from teaching?
[I have learned] that students are more aware than what people think they're aware of. I'm not that much older than the students I teach, so I never really got into the mindset that this generation is just so different because again, generation speaking, I'm only one generation removed, so to see the activism and to see the people that are engaged; to be able to see that and have conversations that are to a level that I didn't experience in my own high school career has been fulfilling.
What career would you have chosen if you weren't a teacher?
There's definitely jobs that pay more, but I've always been someone that looks to try to help others so for a teensy bit of my life I thought something within, not per say law enforcement or police, but dealing with the justice system and whatever that might have entailed. I developed a passion for political science and law in college, but I knew at that point I was already going down the history route and the teaching route, so it was more like a side passion of mine in college, but it probably would have been something with the justice system and helping others.
How do you spend your time outside of school?
Outside of school, I've tried to divorce myself from work. I try to connect with friends whether that's through Xbox or gaming, whether that's taking my dog for a walk or whether that's reading. I always joke that public schools killed my passion for reading, because it did, but I've rekindled that with my love of world history and reading books that help me get a better understanding of world history. There's always more to learn. [I try] to be sociable but keep learning, whatever that might entail.
Follow Mel (@melllvenegas) and @CHSCampusNews on Twitter.