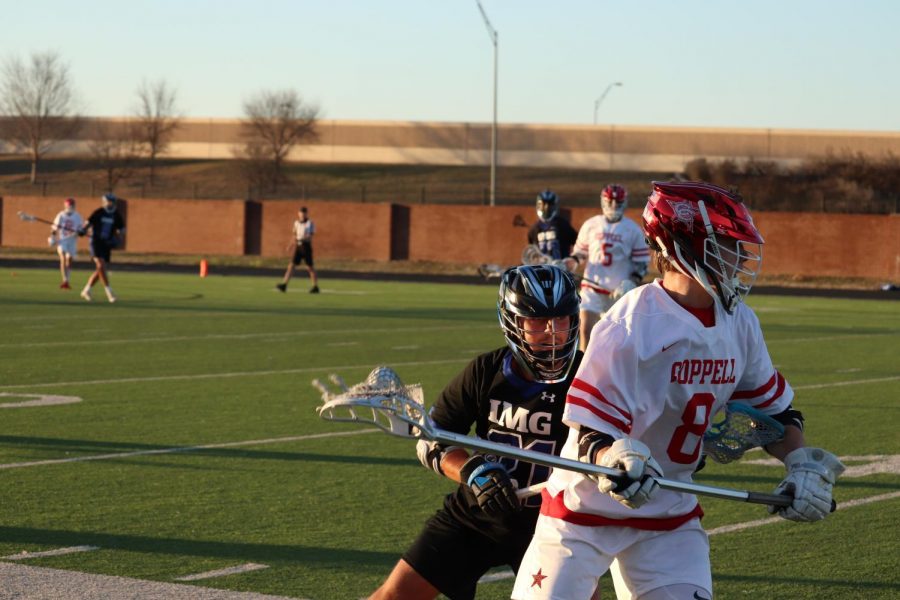 Angelina Liu
Despite the forecasted sunny and warm weather on Thursday, the tensions between Coppell and Southlake Carroll  will be ice-cold at 7:30 p.m. at Lesley Field. 
Carrol has been a persistent rival of the Coppell boys lacrosse team through each matchup, keeping both sides on their toes. 
"I'm not particularly worried about the game," Coppell senior midfielder Andrew Sullivan said. "I just have a lot of energy going into it and I'm really excited to play Carrol because for most people who live in Coppell they are our biggest rivals. We haven't beaten them in three years so I think that tomorrow's night game is going to be a pretty good matchup. We're pretty evenly stacked up with each other. It's never been a blowout [game] since my freshman year; it's always been fairly close." 
While Coppell suffered defensively against Dallas Jesuit, the team is working hard at the practices leading up to the game against Carrol in order to improve on that front. 
"[Carrol] has done a lot of homework on us, but they're not really ready for what we have to throw at them," Sullivan said. "We've been working a lot on clearing the ball and face-off work like using the middle part of the field. [In the game], against Jesuit that's what really hurt us defensively. We played really [well] and then we had a very hard time clearing the ball. But when we did clear the ball and got it to our offense they couldn't stop us." 
This upcoming game will be Coppell's second official district match. The defense will focus on getting the ball to the other side of the field so that the offense can score. 
"It's always good competition against [Carrol]," senior midfielder Bain Carter said. "The offense and defense have been playing really well this year. When we have the ball on offense, we'll capitalize and make the most of it." 
Follow Angelina (@angelinaliiu) and @SidekickSports on Twitter.