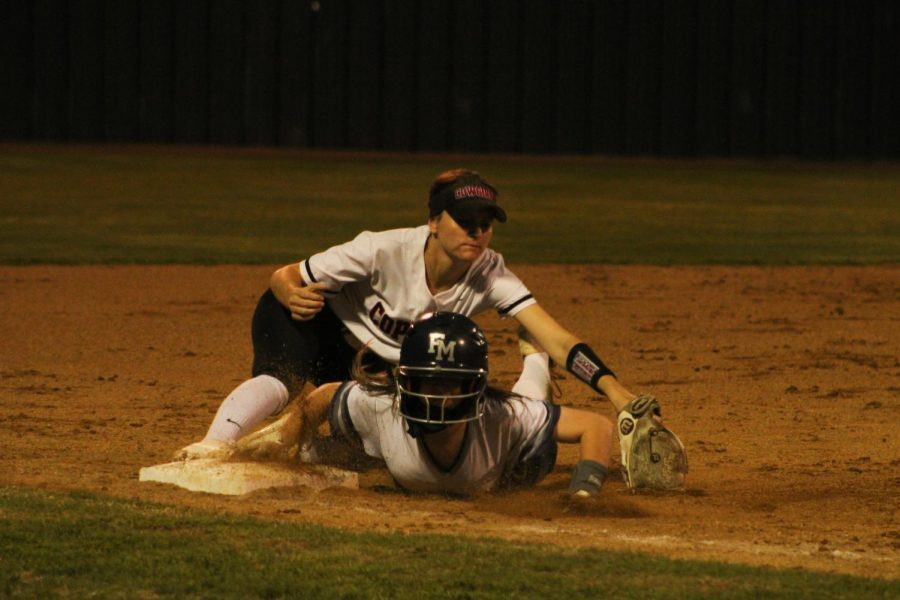 Sally Parampottil
After a 5-4 loss to Plano Senior Saturday and a 4-0 loss to Flower Mound on Friday, the Coppell softball team left this week of District 6-6A play disappointed but having learned new lessons.
With the score running back and forth, Plano and Coppell were tied at 4-4 heading into the final inning. Plano rallied in the top of the seventh to take the lead and Coppell was unable to answer in the bottom half. 
"[The game against Plano] was very tight with little room for error," Coppell senior shortstop Sydney Ingle said. "We were able to keep them from scoring a couple of times when they had runners in scoring positions which helped us keep the game close enough to have the chance to go ahead. There were some super clutch moments when we got out of situations by playing solid defensive behind [Coppell junior pitcher Kat Miller]." 
Still, execution seemed to be a problem for the Cowgirls' as they could not capitalize on their several runners in scoring positions.
"We have a stacked lineup," Coppell senior catcher Dafne Mercado. "But our weakness is working together as a team and being consistent. It's unacceptable that we lost the first time [against Plano, 9-5] and they came in and beat us the second time again. We'll be working on our hitting, we didn't put the ball in play enough."
Against Flower Mound on Friday, Coppell came in expecting a tough game against the undefeated team. Flower Mound came equipped with dominant sophomore pitcher Landrie Harris who kept Coppell quiet at the plate. Despite the 4-0 score, only a few defensive plays separated Flower Mound from Coppell, as they were able to capitalize on their opportunities,
"Our pitching was very strong and we were able to put up a very strong fight because of that and keep the game close enough to have the chance to win," Ingle said. "Despite the loss there were a lot of positives throughout the course of the game and a lot of learning experiences that will help us through the rest of district."
Having dropped several close games, the road to the playoffs looks challenging for Coppell. According to Ingle, however, the Cowgirls' are staying positive. 
"After the game today, we are more motivated than we have been all season because it's going to take a lot to accomplish our goal of making the playoffs because of the loss today," Ingle said. "So as heartbreaking as it was to lose today, we are trying to find the good in it and use it as a spark to fight harder for the rest of the season. This district is so competitive and it's been good to see that we are right there with some of the highly ranked teams."
Follow Anjali (@anjalikrishna_) and @SidekickSports on Twitter.