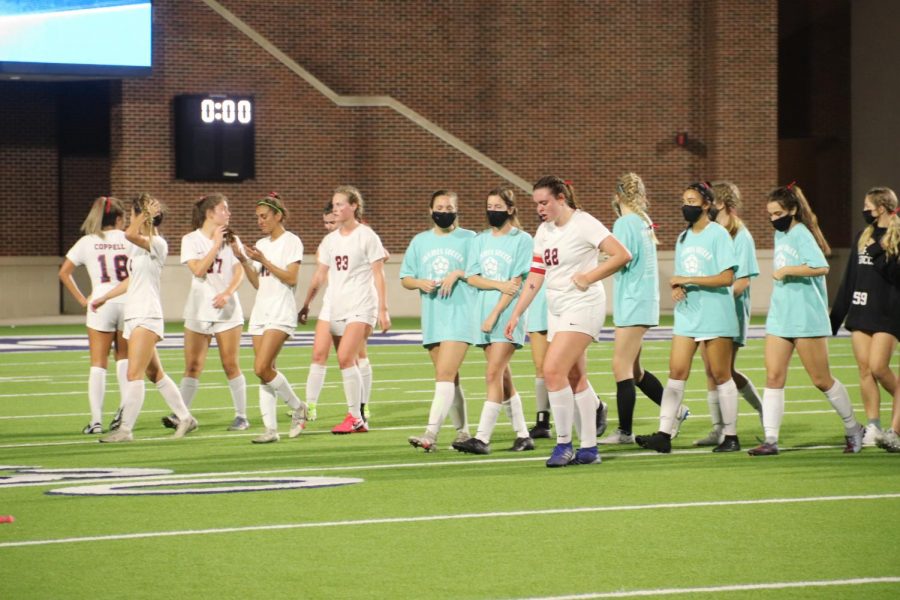 Angelina Liu
McKINNEY – For nearly twenty minutes after the buzzer signaled the end to Coppell's season with a 2-0 loss against Prosper in the Class 6A Region I bi-district playoffs, the Cowgirls sat silently on the grass of McKinney ISD Stadium, packing up their bags for the final time.
"We came up against a really strong Prosper, they finished first in their district and they were undefeated, so we knew that we would have to work hard and that's exactly what we did," Coppell coach Rebeca Sawers said. "I'm extremely proud of this team and the work that we've done. Our district is one of the strongest districts in Texas and our bi-district matchup is another close one. It was a successful season even though it ended tonight."
According to Coppell senior Chloe Phan, the Cowgirls started off slow, nervous to play Prosper, who finished first in District 5-6A. Despite an eventual pickup, Prosper's first goal visibly lowered the Cowgirls' morale.
"They had a really good defense and their offense didn't catch our defense off guard, but played differently than the teams we play in our district and we didn't handle that the best we could at the beginning," Coppell junior center back Bailey Peek said. "A lot of the teams in our district have very good individual players and they are individually good so they might take on defenders one on one, but Prosper played well together as a unit and that was different."
With Coppell senior defender Addison Martin out for the match with injury, according to Sawers, Coppell's players were switched to positions they typically did not play. Though Coppell managed several shots on goal, Prosper goalkeeper Jordyn Gunnarson saved every one.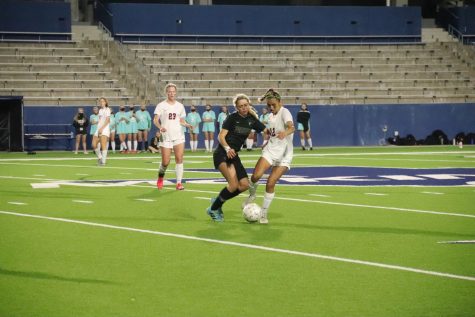 "We had some things going our way; our keeper made some great saves that looked like there were going to be goals for Coppell," Prosper coach Taylor Baca said, "What we did was take our chances. When it came time for the game, it was very competitive and there were a lot of opportunities on both sides."
Fatigue from the four-match weeks dogged the Cowgirls still, with their communication and teamwork continually lacking.
"We've been off the last couple of games," Peek said. "Maybe playing a bunch of games got into our heads. We went in too overconfident against Plano, where we tied and Plano West, where we lost. We were winning against Hebron and they scored in the last few seconds and that brought us down too. That's when communication stopped and our team stopped playing together, and we were trying to win more individually."
Still, during the first half, Coppell remained competitive with Prosper, breaking through its defense and taking shots at goal.
"Even when I was a high school player, we competed against Coppell all the time and I've got a long history with Coppell," Baca said. "They're always very competitive, very good, you know they're always going to give you a heck of a game."
Follow Anjali (@anjalikrishna_) and @SidekickSports on Twitter.