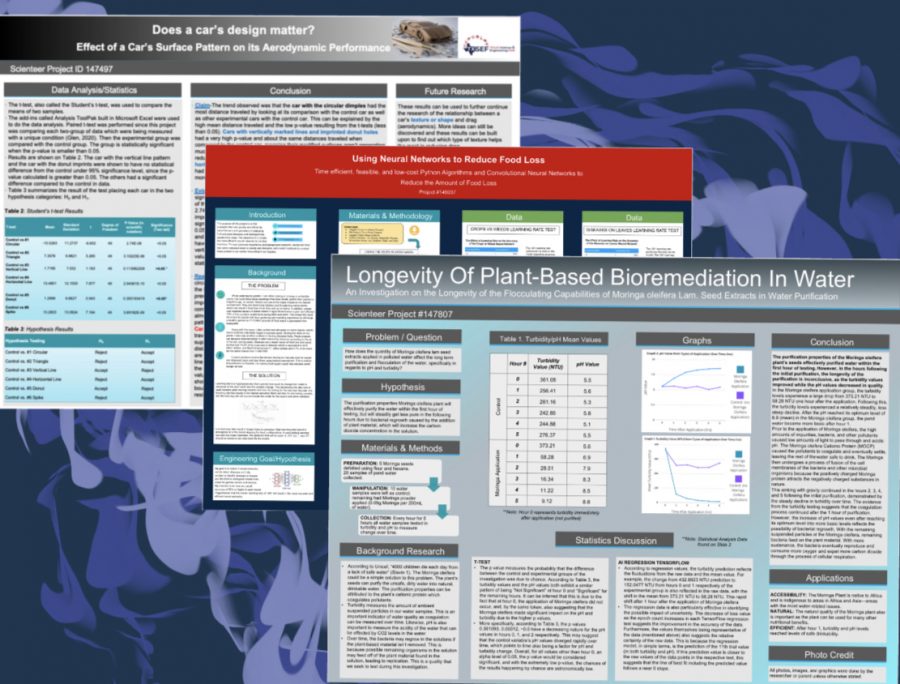 Josh Campbell
The light taps of an Apple pencil hitting an iPad screen and the rhythmic clacking of a smooth keyboard replaces the noises of paper being cut and pasted on a blank tri-fold board.  
After months of data collection and sitting hunched over an electronic device, the three-page digital PowerPoint science fair boards packed with information are submitted for evaluation. 
Seven Coppell High School students scored highly at the Dallas Regional Science and Engineering Fair, with five advancing onto the Texas Science and Engineering Fair from March 15-April 11. The DRSEF allows for more than 840,000 students from 1,220 campuses to compete. Students can enter into various categories such as microbiology, systems softwares and plant sciences. The highest scoring projects move onto regional, state and international competitions. 
"I was very excited [to advance] because I had not been to that level before," CHS9 student and second place in the plant sciences category Nehal Singh said. "At the same time, I thought of this as an opportunity to see other people's projects, and I felt very excited that I could see the ingenious ideas that other people had." 
While the science fair was the same in that projects were submitted through Scienteer and organized through Southern Methodist University, the lack of packed, noisy gymnasiums with students and judges observing boards was not the only difference in this year's fair. 
"I used to always go to [Holly Anderson's] lab every time I wanted to do some sort of data collection," CHS senior and first place in plant sciences Zach Vazhekatt said. "I wasn't able to do that this year, and my teacher was kind enough to let me borrow some of her materials, and I was able to do everything online. In past years, I used to use beakers and fancy testing equipment, but this year, I had to use normal cups and supplies you would find in a kitchen." 
Since judges were not able to physically walk around and inspect contestants' boards, 15-minute interviews were scheduled to learn more about each scientist's project. While there was no interview necessary for the district level, it was required for regional competition. 
"We took what we normally do and made it all digital," CHS International Baccalaureate (IB) biology and environmental science teacher Holly Anderson said. "We did everything through Zoom. I gave everyone instructions, and they got together to look at the projects in groups. We had a spreadsheet that was put together through Google Forms, where all the students turned in their digital boards."
For CHS9 students, participation in the fair was voluntary. In years past, the fair was mandatory for those in the Gifted and Talented biology course. Participation is necessary for students in the IB biology course as they must do an internal assessment to earn credit for the class, which is the equivalent of a science fair project. 
"[The students] are learning lots of skills that they need to be in a science field," Anderson said. "They're gaining that experience that they normally wouldn't if they're just sitting in class. Especially this year, when we're limited on the amount of things that we can do, by designing and analyzing data, they're learning those scientific skills that they need for the future." 
Follow Angelina (@angelinaliiu) and @CHSCampusNews on Twitter.