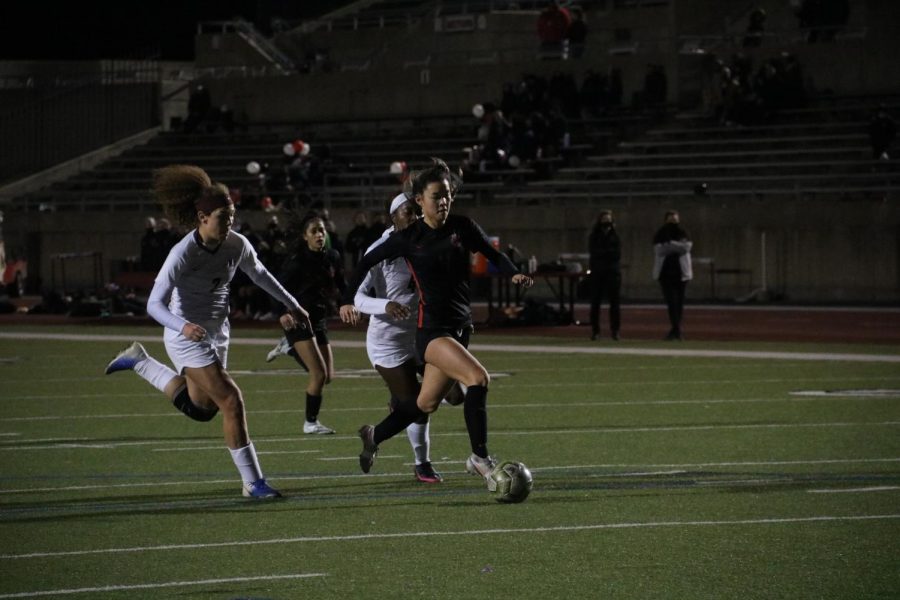 Angelina Liu
Within District 6-6A, the Coppell girls soccer team has yet to face a team it considers itself the underdog. Tomorrow night, for the first time in its season, Coppell plays Prosper, unbeaten at 21-0, at 7:30 p.m. at the McKinney ISD Stadium, where it will not be the favorite in the Class 6A Region I bi-district playoffs.
"As we see their clean record, it is a little nerve wracking," Coppell senior defender Chloe Phan said. "But with everyone favoring them to win, people underestimate us and as the 'underdogs' of the match, if we come out focused, we can shock them. We are expecting a really good match up with them."
After the several cancellations due to inclement weather and subsequent rescheduling of the cancelled matches in late February, the Cowgirls were forced to play three matches a week and fatigue brought them down in district standings. Despite its early successes in the season, the past few matches have been lacking in Coppell's typical communication. Against as strong an offense as Prosper, communication is the Cowgirls' top priority. 
"Over the past games we've had, we haven't been as connected as we were in the beginning of the season so this game we are really trying to work for each other and play till the last minute," Phan said. "We have a really good bond as a team and that will show on the field and help us get the result. We really need to focus to stay alert on the field when it comes to our marks because we struggle sometimes to communicate with that and with their attack, it will be something we need to come together upon."
With Coppell senior center back Addison Martin out of the playoff match due to injury, according to Coppell coach Rebeca Sawers, the back line will also need to push communication to keep up with the forwards.
"Prosper has scored a tremendous amount of goals which means they have a good attack and can put the ball in the net," Phan said. "It's going to be a hard fought game and whichever team shows up and gives it there all will end up with the win."
Follow Anjali (@anjalikrishna_) and @SidekickSports on Twitter.