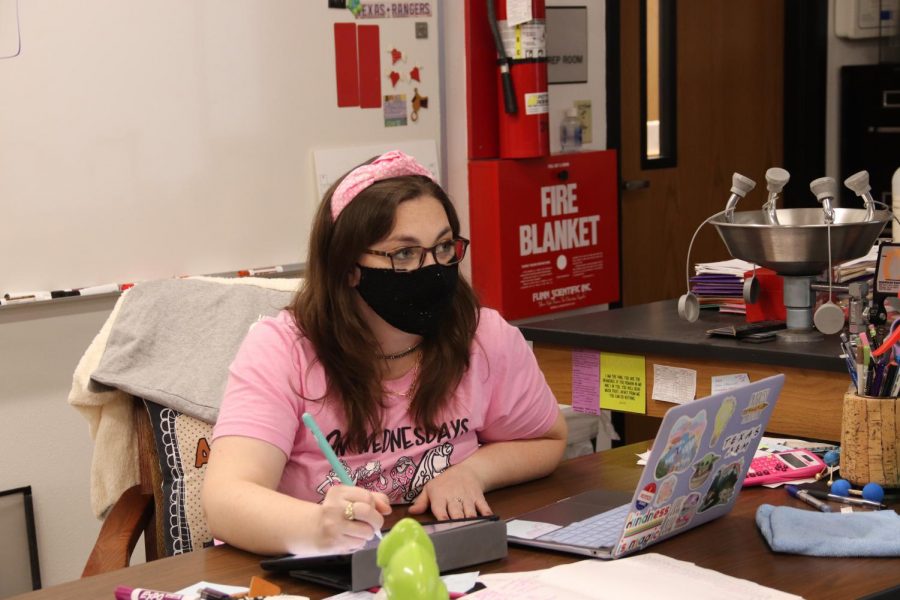 Blanche Harris
For the past three years, Coppell High School AP and honors chemistry teacher Courtney Crosby has emphasized the importance of her students understanding that making mistakes is one step in the right direction towards learning something new. 
Crosby began her teaching journey at Coppell ISD in 2018, where she taught at Coppell Middle School East before moving to CHS. Crosby hopes to provide various opportunities and experiences for her students to give them the tools they need to overcome their challenges. 
What are your goals this year?
My personal goals for this year are to find new ways of seeing what students know, making chemistry more approachable and utilizing digital tools for students to show their level of understanding. My goal for my students would be to create opportunities for them to realize that mistakes are OK and that means you're learning something new. They're not the stopping point, they're an opportunity for an unknown to become a known. 
Why do you enjoy chemistry?
There are some times where there's not one right pathway to get to an answer. I think you get to be creative in your problem solving, and I like presenting problems or challenges to my students that they don't have a memorized answer [for]. You can memorize trends or patterns, but how to apply them takes some innovation, [and] it's a creative problem solving topic. 
What has been a memorable teaching experience for you?
I'm a Coppell alum, so coming back as an educator to the place that built me and how I think and learn. [It] has been really cool knowing that I'm influencing future Cowboys and Cowgirls in the way that teachers influenced me. Working with teachers that were my teachers and now my peers and working with administrators that were my administrators, it has been such a neat experience to see how the school has grown but also how some things are also very much the same. 
When did you realize you wanted to teach?
Halfway through college [Texas A&M], I was a genetics and biochemistry double major. I had started tutoring for extra cash, and I realized that I loved seeing those "aha" moments, like when the lightbulb goes off and something that was impossible becomes possible, when that moment of recognition or epiphany happens. Helping someone get to that place and [helping them] own that knowledge made me decide to switch to education. 
How would you describe your teaching style?
I like to give you the tools or provide you opportunities and experiences so we build a toolbox together, so that when you are presented a challenge, you know which tools to use. Providing opportunities, experiences and labs that help build your strategies so that when you're presented [with] a problem and I'm not there, you don't need me there to be successful, so building independent thinkers. My style is always coming in and [giving] yourself permission to leave confused because that means you're on the brink of learning something brand new.
Follow @CHSCampusNews on Twitter.